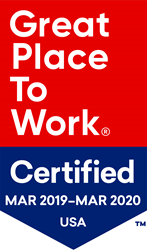 ROCKVILLE, Md. (PRWEB) April 04, 2019
Great Place to Work Institute has honored National Lutheran Communities & Services (NLCS) with certification as a Great Place to Work. The survey included all team members throughout all NLCS entities, and the ratings measure NLCS' capacity to earn our team members' trust and create a great workplace for high performance. Great Place to Work, an independent research and consulting firm, evaluated more than 60 elements of team members' experience on the job. These included employee pride in the organization's community impact, belief that their work makes a difference, and feeling their work has special meaning.
NLCS' culture is defined by the phrase We CARE–The National Lutheran Way. CARE means Create smiles, Attend to details, Respect everyone, and Embody excellence. Regardless of job title or department, the NLCS team embodies the word CARE in every way—from serving seniors and families to interactions with each other.
NLCS values team members and strives to ensure they are equipped with the resources and support necessary to embody excellence in serving others, and encourages continued development of talents and skill sets, fostering an atmosphere of empowerment and growth.
Chief Talent & Culture Officer Kathleen O'Halloran stated, "The NLCS team is made up of a diverse group of people who believe service is our highest calling. We CARE is so much more than an acronym for us. We are successful because our team members are compassionate, enthusiastic, positive, and treat everyone with dignity and respect." O'Halloran continued, "And of course I have to mention smiling. A smile does wonders for interacting with each other and our customers."
The National Lutheran family includes The Village at Rockville (Rockville, Md.), The Village at Orchard Ridge (Winchester, Va.), The Legacy at North Augusta (Staunton, Va.), myPotential at Home (Winchester, Va.), Impact 1890 (Rockville, Md.) and The Village at Providence Point (Annapolis, Md., pending final approval by the Maryland Department of Aging).
The Great Place to Work Certification applies from March 2019 through March 2020. Visit NLCS' Great Place to work page at https://www.greatplacetowork.com/certified-company/7012224.
About National Lutheran Communities & Services (NLCS)
Based in Rockville, Md., NLCS is a not-for-profit, faith-based ministry of the Evangelical Lutheran Church in America's (ELCA) Delaware-Maryland, Metropolitan Washington, D.C. and Virginia Synods, serving people of all beliefs. With more than 125-years' experience, NLCS honors, inspires and supports choice and opportunity in service to seniors. Entities sponsored by National Lutheran include The Village at Rockville in Rockville, Md., The Legacy at North Augusta in Staunton, Va., The Village at Orchard Ridge and myPotential at Home in Winchester, Va., The Village at Providence Point in Annapolis, Md., subject to Maryland Department of Aging approval, and Impact1890 in Rockville, Md. For more information, visit http://www.nationallutheran.org
About Great Place to Work
Great Place to Work is the global authority on high-trust, high-performance workplace cultures. Through its certification programs, Great Place to Work recognizes outstanding workplace cultures and produces the annual Fortune "100 Best Companies to Work For®" and Great Place to Work Best Workplaces lists for Millennials, Women, Diversity, Small & Medium Companies, industries and, internationally, countries and regions. Through its culture consulting services, Great Place to Work helps clients create great workplaces that outpace peers on key business metrics like revenue growth, profitability, retention and stock performance.
Learn more at Greatplacetowork.com and on LinkedIn, Twitter, Facebook and Instagram.