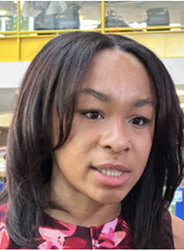 I think more young people who saw the same things I saw, who have complex experiences, complex feelings will discover that fine arts can also be an outlet and a way to make material change in our community.- Alyssa Gaines
INDIANAPOLIS (PRWEB) February 06, 2023
Alyssa Gaines grew up visiting The Children's Museum of Indianapolis with her family and even attended her high school prom at the world's largest children's museum. It is there, with her parents and grandparents, that the young girl from the city's east side developed her sense of curiosity about the world through exhibits like Take Me There®: Egypt, China and Greece as well as Mini Masterpieces.
As the nation celebrates Black History month, the National Youth Poet Laureate returned to The Children's Museum to see some of her favorite exhibits and was inspired to give back to the community that has supported her along the way. "I love coming back home. Connecting with and performing for kids from my hometown has been one of my favorite experiences as National Youth Poet Laureate," said Alyssa Gaines, 2022 Youth Poet Laureate of the United States, hosted by Urban Word. "I think more young people who saw the same things I saw, who have complex experiences, complex feelings will discover that fine arts can also be an outlet and a way to make material change in our community."
Alyssa started her journey to becoming the 2022 Youth Poet Laureate of the United States by becoming the first-ever Indianapolis Youth Poet Laureate and earned the Midwest Regional Ambassador title. The young poet, who attends Harvard University, performed some of her favorite pieces from her growing body of work at The Children's Museum as part of Black History Month. These pieces led her to become the National Youth Poet Laureate and the opportunity to be featured in Scholastic's "Best Teen Writing," the Wall Street Journal, NPR, The Kennedy Center, Library of Congress and with Katie Couric Media.
"Because I started to write at a young age, I learned to write about things that immediately influenced me. So, as I'm older I write about things I'm passionate about, where I'm from, my hometown, the people who raised me and taught me all the lessons I know now," said Gaines.
dear east side--
when i picture you, i do not picture the headlines.
you are the basements
where east side teens cry and sing songs only we know.
screaming eulogies at the night stars as an act of defiance,
knowing the kids on the news could've been us.
you're the jiggalate that has not yet been gentrified,
all of us in one motion
bobbing to your heartbeat
and when they see us they already know how we what.
but your voice cracks under crime statistics
corpses clog your arteries
you hug so tight that you never let go of some of us,
stuck between these blocks.
but we love you because in a world that can't stand to see us live
we live on the east side where each day of life is a reason for celebration.
you're a bleeding heart all over the streets
a crisp-white airbrushed tee
a cap to the side
a candy-paint job that fingers have yet to touch
how beautiful.
a graveyard and a bumping house party
your skin, your sacred sidewalks
people die on the east side,
but oh how we live here too.
This is an excerpt from her poem, "Love Letter to the Eastside." She worked on creating the moving words for a couple of years as an ode to the hometown she loves, and as a reflection on its complexity. This piece seeks to humanize the injustice and incredible tragedy of systemic racism, generational poverty, gun violence, and disinvestment while holding fast to the resilience, triumph, and overcoming abilities of her community.
"When I write about issues facing the community, I try to write from a place of love," she said. "So even when I write about gun violence, issues of identity and of being a young Black woman from the east side of Indianapolis – there are always things I uncover through that writing process about community, about love, about healing."
Alyssa comes from a strong arts and writing program thanks to Indiana Youth Poet Laureate program, which falls under VOICES Corp. "We believe deeply in the brilliance of our youth. By equipping our youth with the literary arts skills, historical knowledge, and awareness of how social change happens, we help them make meaning of their individual experiences in light of our collective realities," said Lauren Hill, director, Indiana Youth Poet Laureate program. "We listen to and affirm them, and we create spaces for them to reflect, question, heal, and hope through poetic inquiry so that they, and all of us, can grow. We feel a deep sense of pride, gratitude, and motivation to keep growing our work given that Alyssa is our 2022 National Youth Poet Laureate, and we found out last week that another talented youth who served as our 2022 Indiana Youth Poet Laureate, Charlotte Yeung, just earned the Midwest Regional Ambassador title, making her one of four finalists who will now compete for the 2023 National Youth Poet Laureate title."
Through culturally sustaining education, healing-centered engagement and workforce development, VOICES provides the relationships, resources and opportunities for youth to heal, grow and further their path toward economic self-sufficiency and civically engaged lives. The Children's Museum of Indianapolis firmly believes that empowering youth with opportunities to share their voices is one of the most powerful gifts we can give them and cannot wait to see how Alyssa Gaines' words and actions impact the world.