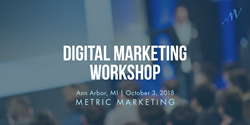 "Hannah's approachable, comfortable style made this digital marketing workshop the most productive and enjoyable I have ever attended. I highly recommend this workshop for anyone looking to gain a better understanding of the backend of the digital marketing world."
ANN ARBOR, Mich. (PRWEB) August 30, 2018
Metric Marketing will host a full-day, hands-on digital marketing workshop (https://annarbormarketingtraining.eventbrite.com/) at Zingerman's Greyline—Zingerman's premier event space in downtown Ann Arbor, MI. The training will be catered to CEOs, Marketing Managers, and others who are responsible for their company's digital marketing efforts and need to ensure they're up to date on best practices.
The class will be led by Hannah McNaughton, (https://www.metricmarketing.com/team/hannah-mcnaughton/) Metric's Founder and CEO. McNaughton shares her expertise through Search Engine Journal authorship, as well as through teaching intensive SEO training courses throughout the nation—including half-day SEO workshops (https://www.metricmarketing.com/digital-marketing-training/) at Digital Summit conferences. Upcoming Digital Summit workshops include Detroit and Chicago.
"On the coasts, there are a number of high-caliber marketing events, but in Ann Arbor, we've noticed a lack of good training opportunities for marketing professionals—particularly for those who are working outside the agency space," said McNaughton. "Our goal is to provide local businesses with the knowledge and tools they need to be successful in online marketing, and to be able to make educated decisions about how to spend their marketing budgets."
Maura Thomson, Executive Director of Ann Arbor's Main Street Area Association, attended Metric's 2017 Digital Marketing Workshop. Of her experience, she said, "Hannah's approachable, comfortable style made this digital marketing workshop the most productive and enjoyable I have ever attended. What I appreciated most about the workshop was that I was able to gain practical tips and advice as a novice while the more tech savvy marketing professionals in attendance were also able to do a deeper dive into digital marketing strategies. I highly recommend this workshop for anyone looking to gain a better understanding of the backend of the digital marketing world."
The 2018 Digital Marketing Workshop will take place on Wednesday, October 3rd, 2018 from 8:30am to 4:30pm at Zingerman's Greyline in Ann Arbor. Tickets include food and beverages by Zingerman's Catering; an in-depth workbook, full of actionable information attendees can start applying immediately; and a site audit for each attendee's website.
Attendees will learn how to develop and implement effective digital marketing strategies, measure the effectiveness of their efforts, and prioritize future marketing decisions. Topics will include marketing strategy development, search engine optimization, content marketing, social media, and more.
Space is limited, so follow this link to register (https://annarbormarketingtraining.eventbrite.com/). To learn more about Metric Marketing, their services, and upcoming digital marketing workshops, visit https://www.metricmarketing.com/
About Metric Marketing:
Metric Marketing is a full-service, digital marketing agency in Ann Arbor, Michigan. Since their foundation in 2014, they've been driven by the belief that effective marketing strategies must be agile and intentional. They've made it their mission to provide quality marketing education and deliver the best digital marketing services to businesses small and large—from startups to Fortune 100 clients.
They've built hundreds of state-of-the-art, fully optimized websites; developed effective marketing strategies; and managed comprehensive digital marketing campaigns for a range of diverse clients—and they don't plan to stop any time soon. If you're ready to take your marketing to the next level, contact Metric today.