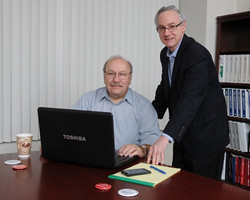 Premier is finding that more financial advisors are basing their practices on the needs of baby boomers.
CINCINNATI (PRWEB) January 18, 2019
Premier Social Security Consulting will host its National Social Security Advisor (NSSA®) certificate education in six cities this year while expanding its webinar and on-demand courses for busy professional advisors nationwide.
Marc Kiner, partner at Premier Social Security Consulting of Cincinnati, which teaches the Social Security education program, said professional advisors are busier than ever, but want the comprehensive NSSA program.
"We've found that advisors, like the rest of us, are pressed for time," said Kiner. "An increasing number of advisors are choosing the all-day webinar option. We have the same content and the same interaction ability as a live program, but advisors can take the course in the privacy of their company conference room or the comfort of their home offices."
NSSA is the nation's only accredited Social Security education certificate program, with accreditation provided by the Institute for Credentialing Excellence (ICE) in Washington, D.C.
The NSSA Advisor certificate is awarded to professional advisors who take the NSSA course and pass an assessment. The National Social Security Association has certified more than 1,700 advisors since the program began in 2013.
Full, all-day NSSA programming will be held in Cincinnati on Feb. 5, April 19, June 3 and 19, Aug. 15 and 16, Oct. 22 and Dec. 3; Orlando, Fla. on March 5; San Diego on March 28; Chicago on June 27; Cleveland on July 16; and New York on Sept. 23. Live Classes run from 8 a.m. to 4:30 p.m.
Webinars will be held on: Jan. 23; Feb. 14; March 12; April 5; May 3; June 18; July 23; Aug. 20; Oct. 17; Dec. 11; Dec. 27.
Cost for the live class is $995, with web-based and on-demand video classes at $695. Premier also offers private, on-site classes for organizations that need to provide in-house Social Security training to multiple professional advisors.
Eight continuing education credits are available for certified financial planners, certified public accountants, and insurance agents nationwide for live classes. Education credits will be also available for on-demand and web-based education in 2019.
Premier provides ongoing gold standard Social Security education support after an NSSA education course is completed, said Kiner. Support includes monthly webinars; marketing videos; and a PowerPoint presentation.
"Baby boomers turn 65 years old at the rate of 10,000 a day, yet the majority of boomers know little about how to maximize their Social Security income," said Kiner. "That's why we developed the NSSA certificate program—to help advisors teach clients everything they need to know about Social Security but didn't know they had to ask."
Premier is finding that more financial advisors are basing their practices on the needs of baby boomers, said Jim Blair, Premier partner and a Social Security expert. The Social Security topic, he added, has become an excellent lead generation tool.
"Since retirements today can last up to 30 years, Social Security income has become increasingly more important to help retirees not outlive their money," said Blair. "We find that NSSA advisors are better educated about Social Security and equipped to help their clients make wise decisions about claiming Social Security."
About 75 million Americans today are classified as baby boomers.
A married couple can leave as much as $150,000 on the table in Social Security benefits by not accessing the program correctly based on their ages, health and life expectancy and not coordinating spousal benefits, said Kiner.
For more information about the National Social Security Advisor certificate program, visit http://www.nationalsocialsecurityassociation.com or http://www.premiernssa.com or call Kiner at (513) 247-0526.
# # #
Follow us on twitter @pssconsulting or connect with us on LinkedIn at Social Security Rainmaker™
Contact: Marc Kiner
Email: mkiner@mypremierplan.com
Phone: (513) 247-0526
About Premier Social Security Consulting:
Premier Social Security Consulting, LLC in Cincinnati educates professional advisors nationwide on the nation's Social Security program so they can counsel their clients on how to maximize lifetime Social Security income. Partners Marc Kiner and Jim Blair teach the National Social Security Advisor (NSSA) certification program.