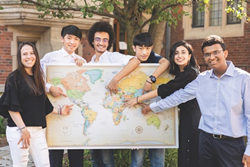 "Despite going to an international school, I have never been in an environment where so many people from so many nationalities congregated to simply learn together and inspire each other." -Yana Tucker, Alumna YYGS 2019
ATLANTA (PRWEB) December 16, 2020
The National Society of High School Scholars (NSHSS) has announced a partnership with Yale Young Global Scholars (YYGS). Both organizations provide prospective college students enrichment opportunities prior to entering higher education, making it a mutually beneficial partnership for both the organizations and members.
The Yale Young Global Scholars program is a highly selective program hosted by the renowned Yale University on its historic campus. High School students from all corners of the globe gather for an immersive two-week program that has been acknowledged as one of the most diverse summer programs in the world. Aside from learning from each other, students can choose a track in the humanities, social sciences, STEM topics, and cross-disciplinary sessions, depending on their interests.
YYGS has hosted students from over 130 countries. Students from all socioeconomic backgrounds attend, with over $3 million USD in need-based financial aid allocated to scholarships for the program.
One alumna said of the program, "Despite going to an international school, I have never been in an environment where so many people from so many nationalities congregated to simply learn together and inspire each other. It was fascinating for me to meet people from all around the world and learn about their country's culture and traditions." - Yana Tucker, Alumna YYGS 2019.
NSHSS members will benefit from this partnership by being given updates on application deadlines and key dates. NSHSS's mission to provide college students with the resources and network to excel in college, career and community is strengthened by forging partnerships with celebrated programs and institutions, including ones like YYGS.
YYGS is currently accepting applications to the summer program, with the regular decision deadline approaching on January 12, 2021. In light of current circumstances, this year's program will be held online.
About YYGS
Yale Young Global Scholars (YYGS) is one of the most globally diverse, two-week academic summer programs in the world. Our program serves 2,400 students from over 130 countries and all 50 U.S. states, and we distribute over $3 Million USD in need-based financial aid to domestic and international students.
About NSHSS
National Society of High School Scholars (NSHSS) is the premier honors and scholarship program co-founded by Claes Nobel, the senior member of the Nobel Prize family, and James Lewis. NSHSS offers a lifetime of benefits, pairing the highest performing students worldwide with high school and college scholarships, events, connections, internships, and career opportunities that begin in high school and carry on through college and careers. For more information, visit https://www.nshss.org/.