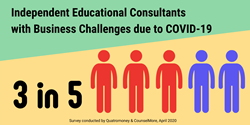 We're hoping that the survey will help our colleagues know that they are not alone, and that, soon, their professional insight will be sought after. Over the next year, Parents will feel more uncertainty than ever before
SPRINGFIELD, Mass. & REDWOOD CITY, Calif. (PRWEB) April 30, 2020
The survey of 200+ professional college counselors, conducted in April also found that three out of five independent educational consultants (IECs) are already experiencing the negative effects on their small businesses.
"Yes" respondents were provided nine options to describe the reasons their small business has been negatively impacted and encouraged to select all that applied, the top reasons selected were:

60.2% My number of clients is shrinking.
58.5% Client contact is limited due to social distancing.
25.2% I have to do additional work for the same money.
"No" respondents had seven options, and the top reasons why the outbreak has not impacted their business yet were:
77.8% I already used video conferencing to connect with clients.
71.6% I already worked out of a home office.
67.9% My clients have even more flexibility to meet.
With the majority of IECs previously meeting clients in person, many businesses have had to quickly shift to embrace online communications, particularly video-based advising. As one respondent who works in a team of less than five educational consultants in the South wrote "I'm now a beast at Zoom, which is a good thing!" In addition, use of emails, text messages, online test tools, and college counseling software has been embraced during the crisis. Click here to learn more details on the survey results.
CounselMore, a provider of college counseling software to IECs, and Quatromoney, a fintech platform helping families plan and save more on the purchase of college, partnered on the survey and also are announcing their business partnership this week as well. In an effort to provide IECs and their family clients easier access to personalized college affordability planning, CounselMore will soon add Quatromoney's functionality into their College Search & Student Management platform. The two companies will also co-market together in their mission to help families find the right college matches and the most affordable.
"Independent educational consultants are facing some serious business challenges as a result of the pandemic and its effects on the economy and college choice," said Margaret Rothe, IEC and Founder of CounselMore, "we're hoping that the survey will help our colleagues know that they are not alone, and that, soon, their professional insight will be sought after. Over the next year, Parents will feel more uncertainty than ever before."
Colleen Krumwiede, Co-Founder of Quatromoney added, "The economic challenges that families are attempting to manage may constrain their discretionary income to pay for consulting services. However, IECs who embrace videoconferencing, keep abreast of changes to the college experience at their clients top picks, and offer a variety of ways to interact from personalized online communications to community based social media will continue to win loyal, paying clients."
About CounselMore
CounselMore College Counseling software delivers up-to-date, searchable college data building best fit college lists, tracks applications, and manages services with ease. Counselors praise the comprehensive business tools reflecting esoteric industry knowledge. Counselors share opinions and facts, making CounselMore a true network of counselors moving students toward success. Learn more at https://www.counselmore.com/ or follow us on Twitter @counselmore.
About Quatromoney
Quatromoney is a financial technology company developing consumer facing platforms that help families buy college better. The planning platform, launched in 2019, enables consumers and their advisors to better plan for the significant costs of a four-year degree by providing transparency on pricing and financing costs unique to each student and their family upfront. Learn more at https://www.quatromoney.com or follow us on Twitter @quatromoney.