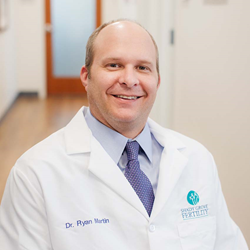 There is no one size fits all when it comes to determining the best course of treatment for patients.
ROCKVILLE, Md. (PRWEB) January 24, 2019
A national survey conducted of obstetricians/gynecologists (OB/GYN) reveals that the majority of respondents believe that when referring a patient to a fertility specialist, they look for good success rates and positive patient experiences first and foremost.
"We believe that any decision we make from the perspective of serving the patient will ultimately be the best choice. Therefore, we remain dedicated to delivering the most comprehensive, efficient, fiscally responsible, and compassionate care possible," says Ryan Martin, M.D., of SGF's Warrington, PA office.
At SGF, a leading US-based fertility center, "The patient comes first" is the center of their philosophy and among the reasons why 96 percent of SGF patients say they would recommend the practice and more than 2,000 OB/GYN and other physician specialties refer their patients to SGF each year.
Another reason patients recommend SGF is their favorable preliminary 2017 success rates and vast expertise. SGF performed 10,667 fresh and frozen assisted reproductive technology (ART) cycles in 2017. Among fresh cycles, the delivery rate was 49 percent per embryo transfer in women under 35. For donor egg treatment cycles, in which the egg comes from a fully prescreened donor who is between the ages of 21 and 32, SGF has a 50 percent delivery rate per embryo transfer.
"One of the ways our practice is able to provide such a high quality patient experience and refer pregnant patients each day back to their OB/GYN is through our dedicated patient care teams. It's a priority for us to ensure each patient has clear points of contact throughout the evaluation and treatment process. Each patient has a primary fertility care team comprised of a physician, primary nurse, clinical administrative assistant, and a financial counselor. This core group is in contact with one another daily to ensure all aspects of care are well coordinated," adds Dr. Martin.
Treatment at SGF doesn't just involve caring for patients' medical needs, their integrated care model offers psychological support services by SGF's licensed social workers and holistic care services provided by SGF's Wellness Center. By helping to support the 'whole' patient, the aim is to reduce the stress and emotional toll that is often associated with infertility.
Another reason SGF delivers optimal patient care is because of their individualized approach. "There is no one size fits all when it comes to determining the best course of treatment for patients," adds Dr. McCarthy-Keith of SGF's Atlanta, GA location. "We base our treatment recommendations on a variety of circumstances including a patient's test results, age, medical history, previous fertility treatment, and personal preferences. With all of these variables, we customize and optimize each treatment plan to meet the unique needs of each patient with the ultimate goal of offering patients the best chance of pregnancy," adds McCarthy-Keith.
Since SGF's inception, over 50,000 SGF babies have been born. Learn more about SGF's success rates or schedule an appointment with a physician by calling 1-877-971-7755 or completing a brief online form.
About Shady Grove Fertility (SGF)
SGF is a leading fertility and IVF center of excellence with more than 50,000 babies born and counting. With 32 locations throughout MD, PA, VA, D.C., GA, and FL, we offer patients individualized care, accept most insurance plans, and make treatment affordable through innovative financial options, including treatment guarantees. More physicians refer their patients to SGF than any other center. Call 1-888-761-1967 or visit shadygrovefertility.com