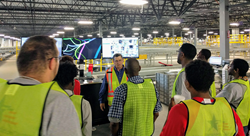 We invite students, veterans, and career-seekers to join us for a free, one-day introductory boot camp to learn about transportation industry job opportunities and the skills needed for a career in the industry
INDIANAPOLIS (PRWEB) November 07, 2018
The National Transportation Center, an organization dedicated to attracting, training and retaining the industry's workforce, today announced growing success with its industry-sponsored, hands-on training boot camps. In addition, the NTC Foundation that supports the nation's first centralized transportation training and employment center, announced that two industry experts have joined its board of directors.
"The transportation industry has always had a challenge reaching young people and making them aware of the many career opportunities it can offer," said Tom Weisenbach, chief development officer at the National Transportation Center. "We recently hosted a group of 25 students from a high school in the Indianapolis area for a one-day industry-sponsored boot camp that included sessions at our training center on career opportunities in the industry and site visits at a FedEx Express maintenance facility and its Indianapolis airport hub. The boot camp was so successful that we're getting calls from other school districts about hosting their students.
"We invite students, veterans, and career-seekers to join us for a free, one-day introductory boot camp to learn about transportation industry job opportunities and the skills needed for a career in the industry," Weisenbach added. "Our goal is for them to gain new insights, skills and contacts so they can pursue a career path in transportation, and with scholarships available through the NTC Foundation we should be able to help fill the pipeline with talented and properly trained individuals."
Through boot camps, the NTC teaches basics like employability and interview skills that serve as career building blocks. There are also longer sessions with hands-on training led by industry experts for careers as a diesel technician, electrical systems technician and other industry specific, customized training.
Support and funding for the National Transportation Center comes from the NTC Foundation, a 501c3 non-profit corporation that supports the nation's first centralized transportation training and employment center with scholarships and other funding initiatives. Previously, the NTC was funded privately by its founder, Preston Harrison, a Vietnam veteran with over 40 years of experience in the transportation industry as a driver in fuel and food distribution, LTL and construction fleets, as an operations manager and as the owner of a truck and trailer dealership.
The NTC Foundation is chaired by Paul Menig, founder of Business Accelerants Powered by Tech-I-M and formerly with Daimler, Eaton and GE. Serving on the foundation's board as well are Eugene Martin, a retired Navy officer and a partner at PH3, Inc., Marc Clark, manager of innovation at FedEx Express, and Randy Ebert, general manager at Pyramid Technologies Inc.
Two new additions to the NTC Foundation board add depth and industry knowledge. Dwayne Haug managed maintenance, sales, marketing, safety and operations for over 40 years, including at fleets with over 7,000 vehicles. Before retiring recently from Werner Enterprises, he served the truckload carrier in various executive roles where he focused on training and hiring technicians, and on achieving reduced maintenance costs, optimally specified, cost-effective equipment, and finely tuned, efficient shop operations. He has also served on several advisory panels and development teams for truck manufacturers and was active in the American Trucking Associations, the Technology & Maintenance Council and the Truckload Carriers Association.
Ellen Voie, president/CEO of the at Women In Trucking Association, Inc. is the founder of the non-profit organization that promotes the employment of women in the trucking industry and works to remove obstacles that might keep them from succeeding. Voie has also served as manager of retention and recruiting programs for a national truckload carrier, as the Executive Director of Trucker Buddy International, on the FMCSA's Entry Level Driver Training Advisory Committee, on the Board of Directors of the Wisconsin Motor Carrier Association, as chairwoman of the ATA Safety and Loss Prevention Council's Recruiting and Retention committee and on the ATA Image and Communications Committee.
About the National Transportation Center
The National Transportation Center (NTC) exists to attract, train and retain a premiere industry workforce. To elevate the caliber and reputation of the industry's workforce, the NTC offers industry vetted and sponsored boot camps that include classroom and virtual learning opportunities and hands-on, real-world experience designed so trainees receive exceptional skills training. The NTC also promotes the benefits of careers in transportation to young people, career-changers and veterans leaving our nation's military. For more information, visit http://www.nationaltransportationcenter.com or email service@nationaltransportationcenter.com.