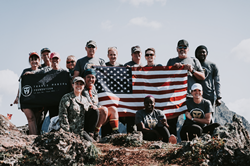 "The opportunity for us to receive such substantial support towards our programs will truly change lives for these families (of fallen military heroes) who have sacrificed so much."
DOYLESTOWN, Pa. (PRWEB) November 26, 2019
Giving Tuesday was created in 2012 as a simple idea: a day that encourages people to do good. Over the past seven years, this idea has grown into a global movement that inspires hundreds of millions of people to give, collaborate, and celebrate generosity. According to givingtuesday.org, last year $380 million was raised in the United States alone, and this year over $500 million is expected to be donated worldwide.
The matching donor campaign through Travis Manion Foundation will be dedicated towards programs in support of families of fallen military members. The staple program funds Service and Leadership Expeditions, which provides veterans and family members of fallen heroes the opportunity to connect, build relationships and work together on service-based trips. TMF Expeditions are more than a support group – they are an opportunity to serve with the selflessness of those we have lost. TMF Expeditions take participants across the US and around the world. Local communities receive the benefit of physical service as well as the impact of seeing participants' acts of courage, strength and selflessness.
"From our inception, Travis Manion Foundation has given families of the fallen a platform to not only continue the life of service, but to carry on the legacy of their loved one by helping others," said Amy Looney Heffernan, Vice President of Travis Manion Foundation. "The opportunity for us to receive such substantial support towards our programs will truly change lives for these families who have sacrificed so much."
Those interested in supporting the cause can visit: http://www.travismanion.org/2019GivingTuesday
About Travis Manion Foundation
Travis Manion Foundation (TMF) empowers veterans, first responders and families of fallen heroes to develop character in future generations. In 2007, 1stLt Travis Manion (USMC) was killed in Iraq while saving his wounded teammates. Today, Travis' legacy lives on in the words he spoke before leaving for his final deployment, "If Not Me, Then Who..." Guided by this mantra, veterans continue their service, develop strong relationships with their communities, and thrive in their post-military lives. As a result, communities prosper and the character of our nation's heroes lives on in the next generation.