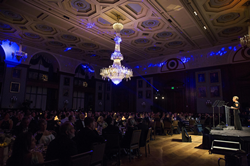 During our weakest times, America's character reveals itself to be at its best. Just like we come together tonight to support and celebrate our military community, we must continue to support each other, during good times and bad, to teach our communities how to unite for the common good.
PHILADELPHIA (PRWEB) December 05, 2018
To kickoff Army/Navy Weekend in Philadelphia, Travis Manion Foundation (TMF) will host the 7th annual "If Not Me, Then Who…" Gala at the historic Union League, on Thursday, December 6th, 2018. This black tie event, which is a national recognition of character and leadership, will have attendees from across the country who are being honored for their dedication to selfless service within their local communities and around the globe.
Some of the high profile and notable figures in attendance or being honored include:

Secretary Richard V. Spencer – Richard V. Spencer of Wyoming was sworn in as the 76th secretary of the Navy Aug. 3, 2017. Secretary Spencer will serve as a Guest Speaker for the evening.
General Stanley McChrystal – General Stanley McChrystal is a retired U.S. Army four-star general, and the former commander of U.S. and International Security Assistance Forces (ISAF) Afghanistan and the former commander of the premier military counter-terrorism force, Joint Special Operations Command (JSOC). General McChrystal will serve as a Guest Speaker for the evening.
Chris Hixon – a Navy veteran and the athletic director of Margerie Stoneman Douglas High School in Parkland, FL, who rushed toward an active shooter – and gave his life in pursuit of saving his students' on February 14th, 2018. Chris' son Thomas Hixon will posthumously accept the "If Not Me, Then Who…" Leadership Award on behalf of his late father.
Jimmy White - Upon learning of Chris' sacrifice, Jimmy White, a Navy veteran and Character Does Matter mentor with TMF in Philadelphia, opted to reach out to the hero's family. Jimmy has shared Chris Hixon's story of bravery and character with thousands of students to inspire them to carry on his legacy of service to others in their own community. Jimmy will also be presented with the prestigious "If Not Me, Then Who…" Leadership Award.
Rob Riggle – Actor/comedian/writer/producer/director Rob Riggle has been a staple in comedic films and television for more than 15 years, and is known for his memorable characters in comedy hits like "The Hangover" and "Step Brothers," as well as his recent appeared in Warner Bros.' war drama "12 Strong". Rob is also a Marine veteran, and will serve as the Emcee of the 2018 "If Not Me, Then Who…" Gala.
General Michael Linnington – CEO of Wounded Warrior Project who previously served as the Military Deputy to the Under Secretary of Defense (Personnel and Readiness) from 2013 to 2015, and retired from the U.S. Army as a Lieutenant General. He will be accepting the Community Leadership Award on behalf of Wounded Warrior Project.
The evening will begin with a VIP reception at 5:30pm, which will be open to the media, followed by the full program starting at 7:30pm. Top level sponsors for this inspirational evening include Boeing, Humana, Polen Capital, Johnson & Johnson, Goldman Sachs, and Penn Medicine.
Travis Manion Foundation will continue the recognition of our nation's bravest heroes, in conjunction with the 119th Army vs. Navy Football Game, which will take place at Lincoln Financial Field in Philadelphia on Saturday December 8th. TMF is the largest Veteran Service Organization in the Philadelphia region, and will host a fully catered veterans tailgate, in partnership with Amazon Military, Drexel Hamilton, and Tito's Handmade Vodka.
The tailgate will take place prior to the Army vs. Navy football game, in the "K" Parking lot of Lincoln Financial Field. TMF has also arranged for game tickets that will be provided to over 20 Gold Star family members and more than 70 veterans, and active duty wounded military members who will travel from Walter Reed Hospital in a luxury bus with police escort to the event. More than 300 total guests are expected to attend the tailgate, and the estimated arrival of the wounded veterans to the tailgate is 1:00pm in the "K" Parking lot.
About Travis Manion Foundation
Travis Manion Foundation (TMF) unites communities to strengthen America's national character by empowering veterans and families of fallen heroes to develop and lead future generations. In 2007, 1st Lt. Travis Manion (USMC) was killed in Iraq while saving his wounded teammates. Today, Travis' legacy lives on in the words he spoke before leaving for his final deployment, "If Not Me, Then Who..." Guided by this mantra, veterans continue their service, develop strong relationships with their communities, and thrive in their post-military lives by serving as character role models to youth. As a result, communities prosper and the character of our nation's heroes lives on in the next generation.
The story of 1st Lt. Travis Manion and his Naval Academy brother Lt. (SEAL) Brendan Looney have been publicized in the book Brothers Forever, and additional information about the Foundation can be found at http://www.travismanion.org.