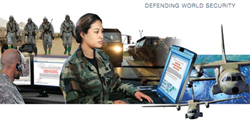 We are very honored that the National Guard Headquarters has finalized its decision and standardized on our mass notification platform
Chatham, New Jersey (PRWEB) November 14, 2014
Desktop Alert Inc., the industry leader in 'less than one minute' network-centric mass warning notification systems (MWNS) to military, government, healthcare, higher education and industrial organizations, today announced that Headquarters U.S. National Guard Bureau at Arlington Hall Virginia has standardized on the Desktop Alert Notification System.
The Facility serves the Army Readiness Center and the NGB Headquarter Staff. Recently the National Guard Bureau Joint Staff including both Air National Guard and Army National Guard personnel relocated to Arlington Hall. Personnel are now further protected by the Desktop Alert System's integration with the Fire Safety and Alarm systems.
Desktop Alert can contact thousands of computer users at their desktop and require them to click to confirm receipt of the message flashed on their screen. Those not verified are then listed on a report and/or sent as an integrated "Target Package" to be automatically contacted by other means such as email, sms, texting, smartphone, and personal safety devices.
National Guard Bureau is a channel of communications between the states and the Departments of the Army and the Air Force. For more than 80 years the National Guard Bureau has experienced many changes and important historical events, most notably four wars, the post-World-War-II reorganization of the National Guard, and the creation of a separate Air Force.
Today, the mission of the National Guard Bureau is to participate with the Army and Air Force staffs in programs pertaining to the National Guard. The NGB is responsible for administering programs for the development and maintenance of Army and Air National Guard units in the 50 states, the Commonwealth of Puerto Rico, the District of Columbia, the Virgin Islands, and Guam.
"We have served Arlington Hall since 2009. We are very honored that the National Guard Headquarters has finalized its decision and standardized on our mass notification platform. It is our mission at Desktop Alert to provide our customers with reliable ip-based notification systems capable of getting the message to the right people when seconds count. Our integration with Facility Fire Safety provides today's military with the ideal notification solution for an increasingly challenging environment. It has been well demonstrated that Desktop Alert can deliver notifications at a higher rate of speed with fewer resources than all other notification capabilities previously used by the Department of Defense" said Howard Ryan, CEO Desktop Alert Inc.
About Desktop Alert Inc. http://www.desktopalert.net
Desktop Alert provides an array of end-point integrations with customers public address systems (Giant Voice), intercom systems, commanders channels, e-mail platforms, DSN-based and cloud-based telephony and sms message systems, network desktop alert popups, national weather service zip code based alerts, digital signage, cable tv, numerous social media systems, CAP server alert, external system sensors such as temperature devices and fire alarm systems.