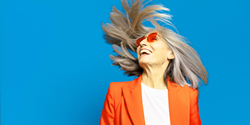 My organization just finished a website redesign orchestrated by the fantastic team at Project6. Throughout the year-long process, they were professional, thoughtful, innovative, consistent and responsive.I look forward to working with them again soon. - Al M, FCA
SAN FRANCISCO (PRWEB) May 18, 2021
Based in San Francisco and regarded as a leading national authority on caregiver support, the Family Caregiver Alliance (FCA) has been providing services to family caregivers for over 40 years. These services include CareNav, a secure online service for quality information, support, and resources for family caregivers of adults with chronic physical or cognitive conditions such as Alzheimer's, stroke, Parkinson's, and other illnesses.
The award-winning design firm Project6 Design redesigned their branding, print collateral and their website. Details of the branding refresh and website update include:

Revised and simplified navigation makes finding information intuitive.
Hundreds of resources, events, articles and stories were imported and reorganized into the new website. The site provides information on local events as well as an extensive collection of support services on a national level. The site also houses research and reports, enables researchers to announce clinical trials, and distributes innovation awards.
Resources are delivered in 5 languages including English, Spanish, Chinese, Korean, Tagalog and Vietnamese. Content managers are able to easily manage translated resources.
Using the latest WordPress technology, content managers can quickly create and edit all pages, resources, state organizations, awards, events, FAQ, news, stories, and staff.
More than a dozen modular block designs enable content managers to modify page layouts that are uniquely tailored to the content needs and also consistent with the new brand.
A new logo and palette modernizes the look of the brand.
Digital powerpoint and letterhead templates, as well as printed letterhead and business card designs, extend the brand across the organization.
About family caregiver alliance
FCA provides direct services and supports, such as assessment and care planning, emotional support options, training on care conditions and direct care assistance, legal/financial consultation, respite services, support groups and other supportive services. As part of FCA, the National Center on Caregiving unites research, policy, and practice to advance the development of high-quality, cost-effective programs and policies for caregivers in every state. It works collaboratively with other organizations to promote services and policies and is represented on numerous national advisories connected with projects that focus on unpaid family caregivers. FCA receives high volumes of traffic from organic searches leading to hundreds of information-rich articles and resources.
For more than 40 years, FCA has provided services to family caregivers of adults with physical and cognitive impairments, such as Parkinson's, stroke, Alzheimer's and other types of dementia. Its services include assessment, care planning, direct care skills, wellness programs, respite services, and legal/financial consultation vouchers. Ongoing support is available with FCA, also now on a digital service platform. FCA is a longtime advocate for caregivers in the areas of policy, health and social system development, research, and public awareness, on the state, national and international levels.
About Project6 Design, Inc.
Project6 is an award-winning San Francisco Bay Area graphic design firm working with tech, retail, education, and nonprofit organizations. Services include branding, print collateral design, and web design and development for a diverse roster of clients such as eBay, Gap, Stanford University, Old Navy, The Siebel Foundation and many others.
Are we the best web design firm in the San Francisco Bay Area for your needs? Contact us to find out.