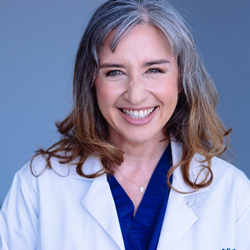 "With their People and Planet Mission, Enzymedica is a leader in showing how companies can be stewards of wellness in our communities," said Dr. Suzanne.
VENICE, Fla. (PRWEB) March 10, 2021
Enzymedica, the leading natural digestive health and wellness brand, announced today that Suzanne Gilberg-Lenz, MD, has joined its newly formed Scientific Advisory Board. The physician, speaker and advocate for integrative women's health is nationally recognized as one of the top experts in her field. A Diplomat of the American College of Obstetrics and Gynecology, she received her medical degree in 1996 from the USC School of Medicine and completed her residency in at Cedars-Sinai Medical Center. In 2008 she was board certified in Integrative and Holistic medicine, and in 2010 she completed her clinical Ayurvedic Specialist degree at the California College of Ayurveda.
Deeply committed to improving women's health through science-backed education, she oversees and practices at the Women's Care of Beverly Hills Medical Group. In caring for the needs of women of all ages, Dr. Suzanne embraces high-tech and efficient methodologies grounded in science, while also teaching about lifestyle choices that often refer back to Ayurveda. Her unique approach is the result of her desire to elevate the level of care women receive in order to promote true mind, body, and spirit healing. As a valuable member of Enzymedica's newly formed Scientific Advisory Board, she brings her medical expertise, knowledge of ancient healing traditions, and her mission to bring health for the whole person to women and their families.
"We're honored that Dr. Suzanne is a foundational member of our Scientific Advisory Board," said Julia Craven, Vice President of Education and Innovation at Enzymedica. "Her extensive knowledge and wisdom about the holistic approach, paired with a backbone of science is unparalleled. As a doctor, speaker and advocate for integrative care, Dr. Suzanne's approach sets a high standard for the new generation of healthcare."
"With their People and Planet Mission, Enzymedica is a leader in showing how companies can be stewards of wellness in our communities," said Dr. Suzanne. "I'm pleased to be joining their Scientific Advisory Board as a foundational member and look forward to our collaboration on product development and bringing truthful and accessible education to the forefront of the natural products industry."
Enzymedica's core mission is to search the planet for natural solutions to support digestive health and total body wellness that represent the highest level of efficacy, quality and purity without compromise. In order to accomplish this, the role of the newly formed independent Scientific Advisory Board is to ensure the company is meeting its commitment to finding nature's solutions. It represents a turning point within the natural products industry and will have three key focus areas: research and development, content development, and consumer and retailer education.
About Enzymedica
Enzymedica is a Florida-based, natural digestive health company since 1998 that sells to over 30,000 stores worldwide and online. Its top-selling enzyme brand is No. 1 in America. In addition to high quality products, Enzymedica also is dedicated to its People & Planet initiative, which is a core pillar within the company's mission - to leave a legacy that will make the world a better place. The company has received more than 50 industry awards including multiple Better Nutrition Magazine's People's Choice Awards, many Best of Supplements Awards and numerous VITY and Nexty Awards. Visit https://enzymedica.com/ for more information.
Media Contact
Ria Romano, Partner
RPR Public Relations, Inc.
Tel 786-290-6413