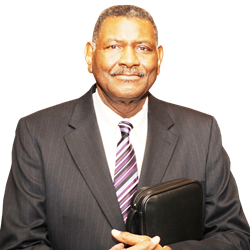 Known for his famous words, "My Lord and My God"
WASHINGTON (PRWEB) May 24, 2019
Bishop Clarence Groover, Sr., pastor and founder of the Fisherman of Men Church in Washington, DC, passed away on Monday May 6, 2019. A viewing will be held on May 27, 2019 from 4pm-9pm at the Fisherman of Men Church, 3641 Georgia Avenue NW, Washington, DC 20010. ([http://www.fishermanofmenchurch.org)
The home going celebration will be held on May 28, 2019 at the Bible Way Church, 1100 New Jersey Avenue NW, Washington, DC 20001. Viewing will be from 9am-11am, and service will start promptly at 11am. *His interment will be held privately.
Bishop Groover was the Diocese Bishop of the Mid-Atlantic Diocese of the Church of Our Lord Jesus Christ of the Apostolic Faith Inc. (COOLJC), overseeing churches and missions in the Washington DC, Maryland and Virginia region. He was appointed as Bishop in 1991 by the late Chief Apostle, W.L. Bonner. With this appointment, Bishop Groover was given the charge to oversee five churches, and within 28 years he established an additional twenty-five churches into the Mid-Atlantic Diocese. Bishop Groover also served as Vice Chairman of the Board of Directors for W. L. Bonner College, and International Financial Secretary and Chairman of the Information Technology Committee for COOLJC.
Bishop Groover was the pastor of the Fisherman of Men Church in Washington, DC for 49 years. He hosted a weekly radio broadcast on Sunday nights at 11:30pm on Radio One station WYCB 1340 AM. He has been on the air for 40 years and is distinguished in having the longest running weekly radio broadcast on WYCB. Bishop was known for his famous words, "My Lord and My God" and was never ashamed to praise the Lord. He has touched millions of lives through the broadcast and has ministered to people all over the world.
Bishop Groover worked for the National Aeronautics and Space Administration (NASA) as a mathematician and Assistant Data Processing Engineer for the Orbiting Astronomical Observatory Satellite (OAO-A2), and Lead Software Analyst on the Energetic Particle Explorer series "D" (EPE-D) Satellite. He retired as Vice-Provost and Chief Information Officer at Howard University, holding the highest technology office at the University.
In 2017, Bishop Groover began documenting his unique journey in an autobiography Bitter Waters Made Sweet, to be released in 2019. In his book, Bishop Groover illustrates his triumphs over adversity, and recounts how he made what was seemingly impossible become possible. Although he faced many trials and hardships over the course of his life, throughout every struggle he found a way to success by determination and through his faith.
He will be remembered as a humble, remarkable man of God with great integrity, intelligence, innovation, and inspiration. He leaves to cherish his memory, his beloved wife Nettie Groover, devoted daughter Judy Nanette Groover and loving grandson Roy Russell IV. Three of his children (Sonya, Anita, and Clarence, Jr.) preceded him in death. He cared deeply for his family, his church, and his community, and always lent a helping hand to those in need. He touched countless lives through his ministry and will be greatly missed by all.
For more information contact Judy Groover at 202-361-3939 or jgroover(at)rockmediaconcepts.com.