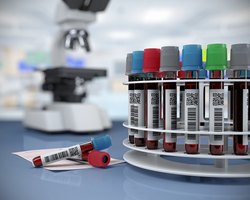 Labels are essential for allowing others to make, ship and use products; we recognize this, and our team is up to the task of maintaining this important production activity.
ITASCA, Ill. (PRWEB) April 08, 2020
Diversified Labeling Solutions (DLS), a national converter of pressure sensitive labels has stepped up to serve a vital role in producing essential supply chain and medical products during the coronavirus pandemic.
DLS has consistently been a major producer of logistics labels. In the last month, the need for this type of label has grown exponentially. Nothing is manufactured, warehoused, distributed or shipped without a label on it. As the coronavirus pandemic has played out, the supply chain has become stressed, leading many manufacturers to ramp up production. Additionally, stay-in-place orders mean that many consumers and businesses are dependent on delivery of key products – leaving delivery businesses scrambling to meet demand. This had led to a significant increase in the demand for logistics labels such as warehouse barcode labels, shipping labels, and food delivery labels.
Additionally, in the past several weeks the demand for healthcare labels has increased significantly. These important labels include medical supply and product/equipment labels, blood bag labels and laboratory labels. DLS is also helping to meet the demand for face masks and is running multiple shifts to convert face mask material that is delivered to manufacturing companies for assembly.
DLS is able to meet the increased demand for these products by keeping their four plants open and increasing throughput. This allows DLS teams to produce product faster and make sure it is delivered quickly and efficiently across the country.
"With our multiple production locations and redundant equipment, we can mitigate risk in the event of shutdowns, slowdowns in activity or supply chain issues. This is a significant strength of Diversified Labeling Solutions," says CEO Jim Kersten. "Labels are essential for allowing others to make, ship and use products; we recognize this, and our team is up to the task of maintaining this important production activity."
DLS continues production while also working to protect the health of its employees. Team members who can perform their job functions from home have made that transition. In the plants where workers need to be present to process, produce and ship labels, the staff has been able to maintain productivity, quality and service while following appropriate safety and social distancing protocols.
"I am very proud of our team at Diversified," says Kersten. "They are coming to work every day, to ensure we meet the needs of our customers. They are very supportive of our efforts to be an essential supplier during these times."
"The loyalty and dedication of our employees is unlike anything we have ever seen," adds James Cirigliano, VP of Marketing. "Whether working remotely or on the manufacturing floors, our team takes great pride every day knowing they are making a difference during these difficult times."
About DLS
Since 1985, DLS has been a preferred B2B supplier of high-quality, custom-printed pressure sensitive labels. All products, from blank labels to full color high-definition labels, are produced utilizing the latest in flexographic and digital printing technologies. Exemplar of their motto "We only succeed when you do," DLS's dedicated team is passionate about labels and is willing to share their expertise with partnered distributors to help them grow their business. Located in five states and headquartered in Itasca, Illinois, DLS is well-situated to offer products to customers nationwide. To learn more about the dedicated team at DLS, its exceptional offerings and services, or to receive a quote in 3 hours or less, please visit teamdls.com or call 800.397.3013.