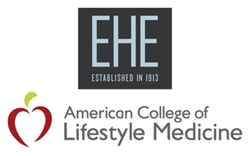 Preventive health is a valuable investment for both businesses and individual patients.
ST. LOUIS (PRWEB) July 24, 2018
The American College of Lifestyle Medicine (ACLM) has announced that preventive healthcare specialist EHE will join its Lifestyle Medicine Corporate Roundtable, a group of individuals and organizations whose collective vision is sustainable human health, a sustainable health care system and a sustainable world.
EHE is a nationwide physician group dedicated to delivering comprehensive preventive services. Founded in 1913, EHE is the first – and only – healthcare provider in America specializing in prevention, partnering with businesses to create a healthier, happier, and more productive workforce. Patients receive comprehensive, age- and risk factor-based screenings, in addition to an in-depth look at hidden risk factors rooted in everyday living.
At 160 locations nationwide, EHE board-certified physicians work closely with patients to address more than just typical medical problems – these doctors help patients understand how everyday behaviors can be inadvertent risk factors for the development of disease. Looking at how patients live, eat, think and move, EHE's program includes a comprehensive health exam and a dedicated, in-depth discussion with a physician-led team. This analysis leads to a personalized blueprint for achieving and maintaining better health. Each patient has a dedicated healthcare mentor to guide and help them access additional support as needed.
"We are pleased to have the opportunity to join the ACLM in amplifying the movement of preventive and lifestyle medicine," said Dr. Tania Elliott, Chief Medical Officer of EHE. "At EHE, we have proven that preventive health is a valuable investment for both businesses and individual patients, and we look forward to working with other experts and organizations dedicated changing Americans' perspectives on how to live healthier lives."
"EHE realized long ago that when employees are healthy, business thrives," said ACLM President George Guthrie, MD, MPH, FACLM. "They were one of the first to help provide prevention services to the workforce, which results in better employee health as well as organizational performance, productivity and, ultimately, a stronger bottom line. We welcome EHE and their leadership expertise to our Corporate Roundtable."
The Corporate Roundtable of the American College of Lifestyle Medicine consists of healthcare and lifestyle thought leaders, with a keen focus on the power of Lifestyle Medicine to transform health and healthcare. Roundtable members explore effective Lifestyle Medicine clinical applications, strategies for accelerating reimbursement and adoption and analysis of potential business-related opportunities. The Roundtable launched in 2015 and has grown to include 30 active member organizations
ABOUT THE AMERICAN COLLEGE OF LIFESTYLE MEDICINE: ACLM is the professional medical association for those dedicated to the advancement and clinical practice of Lifestyle Medicine as the foundation of a transformed and sustainable health care system. Lifestyle Medicine prevents, treats and sometimes reverses chronic diseases. It focuses on the combined use of evidence-based lifestyle therapeutic approaches, such as a predominantly whole food, plant-based diet, regular physical activity, adequate sleep, stress management, avoidance of risky substance use and other non-drug modalities.
More than a professional association, ACLM is a galvanizing force for change. ACLM addresses the need for quality education and certification, supporting its members in their individual practices and in their collective desire to domestically and globally promote Lifestyle Medicine as the first treatment option, as opposed to a first option of treating symptoms and consequences with expensive, ever increasing quantities of pills and procedures. ACLM members are united in their desire to identify and eradicate the root cause of disease. Join today at http://www.LifestyleMedicine.org.
ABOUT EHE: EHE has led the way in preventive medicine for more than 100 years. With unparalleled experience, EHE fuses traditional and validated non-traditional methods to develop personalized care that boosts performance and facilitates longevity. EHE optimizes the experience for companies and individuals, engaging healthy employees through an integrated approach to wellness for both body and mind. EHE's clinical staff and vast physicians network provide dynamic, proactive and innovative care tailored to the specific needs of each person. Through comprehensive medical exams and post-exam coaching and coordination, EHE makes individual health management convenient and holistic. EHE-enhanced care creates incredible value for your personal health and promotes a culture of workplace wellness.