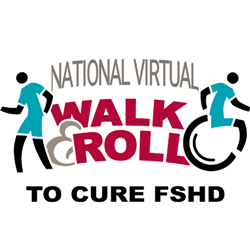 "This disease stops for no one, and neither will we." - Beth Johnston
LEXINGTON, Mass. (PRWEB) September 08, 2020
The FSHD Society, a 501(c)(3) nonprofit patient advocacy organization, announced that this Saturday, September 12, it is holding its largest-ever one-day event to raise funds and awareness for facioscapulohumeral muscular dystrophy (FSHD), a debilitating muscle disease that affects nearly one million men, women, and children around the world.
More than 127 teams will participate in the Society's third annual Walk & Roll to Cure FSHD. Major sponsors include Optum Health, which is supporting five regional teams as well deploying a team of its own.
Because of the COVID-19 pandemic, individuals will be going solo or in small, socially distanced groups and sharing their exploits over social media. A live video stream on the Society's Facebook page will celebrate Walk & Roll teams and volunteers across the country.
This year, teams can vie for opportunities to have one-on-one live chats with Max Adler, the Glee star who is serving as National Ambassador for the FSHD Society. "I watched my Mom and Grandma struggle with this disease and I don't want that to happen to anyone, anywhere, ever again," said Adler. He is leading his own team, Mighty Max.
"While the pandemic has brought many things to a halt, FSHD is relentless. It's a progressive disease that robs you of your smile, your ability to walk or perform simple, every-day tasks that most people take for granted," said Beth Johnston, the Society's chief community development officer. "This disease stops for no one, and neither will we."
This year's Walk & Roll aims to raise a half million dollars to support the Society's programs to accelerate the development therapies for FSHD with the goal of getting an approved treatment onto the market by 2025.
Founded by patients in 1991, the Society almost single-handedly launched research on the rare genetic disease, funding projects that led to the discovery of the genetic cause of FSHD as well as the development of cellular and animal models, biomarkers, and clinical outcome tools for clinical trials. The Society seeded the international FSHD Clinical Trial Research Network, which now comprises 15 sites. This year, the Society organized a landmark externally-led patient-focused drug development meeting to present patient and caregiver testimony to the U.S. Food and Drug Administration.
The following locations are holding events for the 2020 Walk & Roll to Cure FSHD:

Supporters across the U.S. (and beyond) can register for the FSHD Society's 2020 National Virtual Walk & Roll by visiting the team page. Supporters can also tune in on the FSHD Society Facebook Live telethon on September 12 to watch special appearances with Max Adler, patients and leading researchers.
About the FSHD Society (http://www.fshsociety.org)
The FSHD Society is the world's largest research-focused patient organization for facioscapulohumeral muscular dystrophy (FSHD), one of the most prevalent forms of muscular dystrophy. The Society has catalyzed major advancements and is accelerating the development of treatments and a cure to end the pain, disability, and suffering endured by one million people worldwide who live with FSHD. The FSHD Society has transformed the landscape for FSHD research and is committed to making sure that no one faces this disease alone. The Society offers a community of support, news, and information through its website at https://www.fshsociety.org.