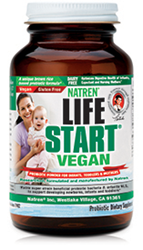 Supplementing with Natren's Life Start Vegan provides infants with that first line of defense for their tiny, immature gastrointestinal tract, ensuring them with the best start to a long and healthy life.
Westlake Village, CA (PRWEB) March 24, 2015
Natren, Inc, the leader in pharmaceutical grade, quality probiotics, has announced the addition of Life Start Vegan, a dairy free probiotic powder for infants, toddlers, expectant and nursing mothers to their line of probiotics, and will begin shipping to American health food stores in April, and selling from their website by mid March.
Over the years, the health food industry has seen an increased demand for dairy free probiotics for sensitive infants and children. Supplementing with Natren's Life Start Vegan provides infants with that first line of defense for their tiny, immature gastrointestinal tract, ensuring them with the best start to a long and healthy life. Natren has selected this unique probiotic, Life Start Vegan, based on years of research.

Recent research shows mother's milk contains the components found specifically to stimulate the growth of B. infantis.
Research shows that B. infantis is disappearing from infants in westernized cultures, even infants delivered by vaginal birth.
Bifidobacterium infantisis one of the most predominant beneficial microorganisms found in the large intestine of healthy breastfed infants. Even during the birthing process, infants born vaginally are no longer receiving adequate amounts of protective Bifidobacterium infantis as they pass through the mother's birth canal and babies born via c-section become bathed in the bacteria from their environment, and most often, they're exposed to the hospital delivery room, or bacteria from their mother's skin. These babies lose out on that natural boost that B. infantis provides. The infant's microflora is also disturbed by the effects of oral antibiotic therapy, vaccinations, and sudden weather changes,all of which can cause levels of Bifidobacteria to decline and lead to even lower levels of digestive health. Life Start Vegan with Bifidobacterium infantis, NLS strain can help with the nutritional restoration of the infant's intestinal microflora.
Natren's full culture processing method keeps the probiotic bacteria in their natural environment (the supernatant) supplied by a fermented brown rice, to ensure potency and effectiveness. This intrinsic supernatant also acts as a natural buffer within the GI tract, enabling the probiotics to better survive the harsh stomach acids.
"For over 20 years Natren has been selling a pure B. infantis probiotic strain grown on cow's milk or goat's milk to improve the health of infants, toddlers and nursing and expectant mothers. Due to the many requests for a vegan infant product we are introducing B. infantis grown on organic brown rice." said Natasha Trenev, Founder and President of Natren Probiotics, "…we selected an organic brown rice medium because it is ideal for vegans and dairy sensitive individuals and least likely to cause an adverse reaction. Natren is the only supplier of this important, single probiotic bacteria grown on a vegan medium."
The organic brown rice base is free of additives, Gluten Free, Soy Free, contains no FOS, or GMOs. Natren's Life Start Vegan will be available in the refrigerated section at leading health food stores across the US and on Natren's website at http://www.natren.com.
NATREN, Inc., founded in 1982, headquartered in Westlake Village, California, is the leading manufacturer of probiotics worldwide. Internationally recognized for its pioneering work and research in the probiotics industry, Natren produces the finest pharmaceutical grade quality probiotics, or "beneficial bacteria" in its cGMP medicinal food graded facility. Natren probiotics are sold in health food stores across the nation as well as directly to consumers. The company also has both an international and professional division selling to healthcare practitioners. Natren is committed to promoting the overall health and wellbeing of their customers. Founder, Natasha Trenev, an educator, author and expert in the field of probiotics, has spent over 45 years researching the benefits of probiotics to improve human health.