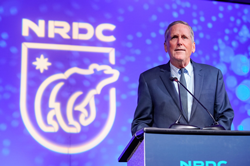 CARLISLE, Penn. (PRWEB) May 08, 2019
Dickinson will present The Natural Resources Defense Council (NRDC), an international environmental advocacy organization, with The Sam Rose '58 and Julie Walters Prize at Dickinson College for Global Environmental Activism. The $100,000 prize is given annually to an individual or organization that makes a defining difference and advances responsible action on behalf of the planet, its resources and people. Actor and environmentalist Pierce Brosnan, a longtime NRDC supporter and advocacy partner, will accept the award on behalf of the NRDC alongside NRDC Western Director and Senior Attorney Joel Reynolds at Dickinson's Commencement on Sunday, May 19.
The Rose-Walters Prize honors the NRDC's work defending America's wildlands, including the Arctic National Refuge, Bristol Bay in Alaska, and the monuments of the West. Founded in 1970, the NRDC works every day to safeguard the Earth: its people, its plants and animals and the natural systems on which all life depends. At the core of its mission is a simple idea: a healthy environment should be a basic right. NRDC creates solutions for lasting environmental change by combining the power of more than 3 million members and online activists with the expertise of over 600 scientists, lawyers and policy advocates. In recent years, NRDC has been at the forefront of advancing clean energy and climate resilience policies in cities across the globe, fighting for safe drinking water—including for the residents of Flint, Michigan—defending endangered wildlife and wild spaces.
Brosnan, the legendary Irish-American actor, film producer, philanthropist, artist, two-time Golden Globe Award nominee and environmentalist, together with his wife, Keely Shaye Brosnan, partnered with the NRDC to block construction of the world's largest industrial salt factory at Laguna San Ignacio on Mexico's Baja California peninsula, in the heart of a UNESCO World Heritage Site and United Nations Biosphere Reserve and the last pristine breeding ground for the Pacific gray whale. Over the past 25 years, Brosnan has also worked closely with NRDC to control the illegal use of high intensity military active sonar by the U.S. and other navies and to end commercial whaling around the world. In addition to receiving NRDC's Forces for Nature Award in 2015, Brosnan's environmental work was recognized with the 2007 Goldene Kamera award.
Reynolds, NRDC's principal institutional representative in the West, joined the organization as a senior attorney in 1990, after a decade with the Center for Law in the Public Interest and the Western Center on Law and Poverty, both in Los Angeles. Since 1980, he has specialized in complex law-reform litigation, arguing cases on behalf of environmental and community groups at all levels of the federal courts, including the U.S. Supreme Court. In addition to partnering with Brosnan to protect gray whales at Laguna San Ignacio and control high intensity sonar, Reynolds has led successful campaigns to reduce ocean noise pollution, to protect the popular California State Park at San Onofre and, most recently, to oppose the Pebble Mine in southwest Alaska. He has twice been recognized by California Lawyer Magazine as California Lawyer of the Year in the environmental category, first in 2003 and again in 2008. He is chair of the 240,000-acre Tejon Ranch Conservancy and has contributed to the opinion pages of major media outlets like The Los Angeles Times, The Washington Post and The Christian Science Monitor. Reynolds will return to campus during the 2019-20 academic year to conduct a brief residency, meet with Dickinson students and deliver a public lecture.
As long-time supporters of the NRDC, Rose and Walters endowed their prize to honor NRDC co-founder John H. Adams and his years of dedication and service to environmental causes. In 2011, Adams was awarded the Presidential Medal of Freedom by President Obama. In 2012, Dickinson presented Adams with a Doctor of Public Service honorary degree. Prior recipients of the Rose-Walters Prize include Our Children's Trust, the advocacy organization representing 21 young plaintiffs in the landmark federal climate change lawsuit Juliana v. United States; Brett Jenks, CEO of conservation nonprofit Rare; environmental activist, author and journalist Bill McKibben; Pulitzer Prize-winning author Elizabeth Kolbert; award-winning actor and environmental activist Mark Ruffalo; Apple's vice president of environment, policy and social initiatives and former EPA administrator Lisa Jackson; and award-winning nature photographer James Balog.
Dickinson is a highly selective private liberal-arts college of 2,400 students and a national leader and innovator in sustainability education. Students are challenged through classroom studies, living laboratories, service learning, student-faculty research and study abroad to build the knowledge and skills that are needed to create a sustainable world. Opportunities for hands-on learning include working with community groups to protect local watersheds and air quality, learning about solar energy, growing food on the college's USDA-certified organic farm and producing biogas from food waste. Sustainable practices and values are underscored by a commitment to climate neutrality, green building practices, socially responsible investment and diverse community engagement. Dickinson's achievements and leadership have earned the highest recognitions from the Association for the Advancement of Sustainability in Higher Education, Sierra Magazine, the Sustainable Endowments Institute, The Princeton Review and Second Nature. http://www.dickinson.edu.