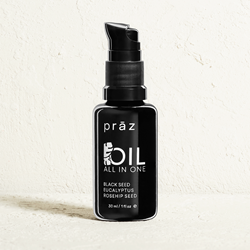 We are proud and honored to be a Leaping Bunny certified company now.
NEW YORK (PRWEB) September 11, 2019
Prāz Naturals, a skincare company that focuses on fresh all-natural ingredients and clean, easy-to-use products, has become Leaping Bunny Certified. The Leaping Bunny Program is the most trusted cruelty-free certification for non-animal tested products and recognizes companies that adhere to their Standard which guarantees a product to be free of new animal testing. More than 700 companies worldwide hold Leaping Bunny certification, providing a choice for consumers who want to only buy products that are free from animal testing. Prāz Naturals now joins the growing list of companies who put the conscientious consumer first.
Prāz Naturals is known for providing natural, organic, and cruelty free products that are in line with their core values of putting the customer and their health at the forefront, being environmentally conscious, upholding responsible business practices, and, of course, no animal testing. Each and everyone one of Prāz Naturals products is tested on themselves or volunteers. With more people aware of the developmental processes of skincare products, Prāz Naturals is at the vanguard of serving consumers who make more informed shopping decisions. Being Leaping Bunny Certified is another step in their journey of adhering to basic core values.
Leaping Bunny was established in 1996 by eight national animal protection groups who banded together to form the Coalition for Consumer Information on Cosmetics (CCIC). The CCIC promotes a single comprehensive standard and as one of the nation's largest animal protection groups, also partners with animal protection groups in Canada and Europe. The aim is to inform consumers but also to drive animal testing out of the industry completely. Companies like Prāz Naturals renew their pledge each year to maintain the Leaping Bunny Standard.
"We are honored and proud to be a Leaping Bunny certified company now," says Sasha Nialla, Founder/CEO of Prāz, "There are many reasons why we don't test our products on animals or buy ingredients tested
on animals. Number one, it's cruel and we are animal lovers at Prāz. We do not believe in sacrificing animals to protect our bottom line. In our personal lives, we also choose to shop consciously by buying only cruelty-free products."
Leaping Bunny Standard also holds ingredient suppliers to make the same pledge with the result being products guaranteed to be 100% free of new animal testing. Prāz Naturals rejects the use of these toxins and have formulated the healthiest skincare products never using parabens, pesticides, synthetics, phthalates or petroleum. Their ingredients are sourced from a select number of trusted, organic certified suppliers.
Animal testing is not required by law and neither the U.S. Food and Drug Administration (FDA) nor the U.S. Consumer Product Safety Commission, require such testing for cosmetics. Alternatives to animal testing include in-vitro methods which are tests using human cells and tissues, advanced computer-modeling or in silico models and studies with human volunteers.
"In-vitro testing is a better alternative, more conclusive and worth the additional cost," explains Nialla, "It's an option widely used in Europe to test for the safety and efficacy of skincare products. As an American company, we are following suit by bringing this method into the mainstream process of testing in order to protect the well being of animals and the customer."
Prāz Naturals products will now display the Leaping Bunny Logo which is the only internationally recognized symbol that guarantees no new animal tests were used in the development of said products. Prāz Naturals, and other companies like them, believe that consumers benefit from not only the all-natural ingredients used in their products but that ethical consumers want to support businesses that are truly Cruelty-Free at all levels. A 2015 Nielsen survey revealed that 'Not tested on animals' was the most important packaging claim for shoppers when purchasing beauty products. Prāz Naturals put consumer wants and needs first from the developmental phase of their brand to the finished, tangible and all-natural product.
Prāz Naturals is now proud to be listed in the 'Compassionate Shopping Guide' which can be found on their website at ​http://www.LeapingBunny.org​. For more information about Prāz Naturals, please visit http://www.PrazNaturals.com or contact ​sasha@praznaturals.com.
About Prāz Naturals​
Prāz Naturals​ offers a skincare routine worth celebrating and only gets better as they continue to explore and discover powerful plant-based ingredients. With a foundation built on appreciation, wellness and a commitment to the environment – Prāz ensures responsible business practices and manufactures every product by hand. The ultimate goal is to source and share their products in a way that honors humans, animals and the planet.
About The Leaping Bunny Program ​
Since 1996, the Coalition for Consumer Information on Cosmetics has been connecting compassionate consumers with cruelty-free companies. The CCIC is made up of the following organizations: American Anti-Vivisection Society; Animal Alliance of Canada; Beauty Without Cruelty, USA; Doris Day Animal League; Humane Society of Canada; The Humane Society of the United States; and the New England Anti-Vivisection Society. CCIC's international partner is the European Coalition to End Animal Experiments.