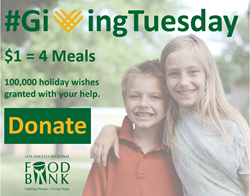 Natural Area Rugs will be donating 10% of every purchase to The Los Angeles Regional Food Bank to help distribute meals to those most in need this holiday season
Los Angeles, CA (PRWEB) November 20, 2015
From Nov. 24 to Dec. 02, Natural Area Rugs, online purveyor of the finest natural fiber area rugs and carpets, will be donating 10% of every purchase to The Los Angeles Regional Food Bank to help distribute meals to those most in need this holiday season. For every dollar donated, the food bank is able to provide four nutritious meals to hungry children, seniors and families throughout Los Angeles County.
With the help of loyal customers, Natural Area Rugs has dedicated this month to raising at least $2,000 - or 8,000 meals - to help the hungry of the community of Los Angeles. With 10% of every purchase going to the food bank, which is able to leverage $0.97 of every dollar donated to help alleviate hunger in LA County, Natural Area Rugs hopes to help as many as 40,000 residents currently experiencing hunger before Christmas.
Last year, Natural Area Rugs donated $4,000 to the Los Angeles Regional Food Bank to help fight hunger. They are proud to be a part of the effort to end hunger in LA County again in 2015.
The vision of The Los Angeles Regional Food Bank is that "no one goes hungry in Los Angeles County" - a tall order in an area where 1 of every 6 residents is currently experiencing hunger. The total number of people in need of a nutritious meal this holiday season is the equivalent of the entire population of the San Fernando Valley, many of them children, elderly and families.
To join Natural Area Rugs in combating hunger in the Los Angeles community, visit naturalarearugs.com. For more information on the impact of The Los Angeles Regional Food Bank and to learn how you can help families in need, go to lafoodbank.org.