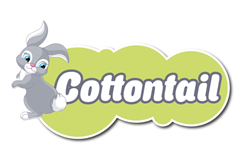 Sustainability is at the core of our business model
MENIFEE, Calif. (PRWEB) September 14, 2020
Nature Fluent, a sustainable consumer products company and the producer and distributor of Cottontail bamboo toilet paper, today announced a partnership with One Tree Planted that aims to bring awareness to deforestation in the U.S. and helps to restore and conserve some of the nation's most exploited forests. For every 24 roll carton of Cottontail bamboo toilet paper purchased, Nature Fluent will plant one tree. http://www.cottontailusa.com
"Working with One Tree Planted is a great fit for Nature Fluent," said Cottontail Brand Manager, Deeva Hall. "Sustainability is at the core of our business model, and while we make a profound impact with Cottontail bamboo toilet paper and its eco-friendly packaging, it's great to have another way to give back and help the environment."
The objectives of this new partnership include:

Helping aid in the reforestation efforts domestically and internationally
Empowering consumers with the choice to be a part of the solution
Raising awareness about the importance of convenient access to sustainable products
Planting trees is one of the easiest and most sustainable ways to positively affect the environment. Trees help clean the air we breathe, filter the water we drink, and provide habitat to over 80 percent of the world's terrestrial biodiversity. Trees also provide tremendous social impacts by providing jobs to over 1.6 billion people, empowering women in underdeveloped nations, and supporting communities devastated by environmental damage.
"We're excited for the opportunity to work with Nature Fluent on such an impactful project," said One Tree Planted founder and Chief Environmental Evangelist, Matt Hill. "We admire the company's commitment to planting a tree for every 24 roll carton of their Cottontail bamboo toilet paper sold. It's a prime example of how consumer brands can make positive change for our planet."
The partnership is designed to be simple for customers to get involved in global reforestation. For every 24 roll carton of Cottontail bamboo toilet paper purchased, the company will give $1 to One Tree Planted to plant one tree. The trees are planted by local partner organizations and community volunteers in areas where there has been deforestation. To learn more about this partnership, please visit cottontail.com/tp-for-trees.
About Nature Fluent
Nature Fluent is a sustainable consumer products company that advocates leading an organic lifestyle that supports the well-being of all individuals and the thriving of communities. For every 24 roll carton of Cottontail bamboo toilet paper purchased, we plant one tree in order to preserve our planet for generations to come. To learn more, visit http://www.cottontailusa.com
About One Tree Planted
One Tree Planted is a 501(c)(3) nonprofit on a mission to make it simple for anyone to help the environment by planting trees. Their projects span the globe and are done in partnership with local communities and knowledgeable experts to create an impact for nature, people, and wildlife. Reforestation helps to rebuild forests after fires and floods, provide jobs for social impact, and restore biodiversity. Many projects have overlapping objectives, creating a combination of benefits that contribute to the UN's Sustainable Development Goals. To learn more, visit onetreeplanted.org