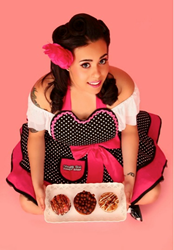 Pin-Ups, POP UPs, and DONUTS...The "2015 MTV Movie Awards" Collection of donuts will be curated by the 17-year old pastry chef who made national headlines when her donut shop was boycotted by a group of religious extremist in Front Royal, Virginia.
New York, NY (PRWEB) April 09, 2015
The 17-year old donut shop owner who made national headlines for her naughty take on America's favorite treat, is headed to L.A to celebrate with the presenters and winners at the "2015 MTV Movie Awards". Tiana Ramos will be gifting an exclusive collection of treats curated by the young pastry chef herself in the official "2015 MTV Movie Awards" Gift Bags produced by Backstage Creations.
This year's presenters Chris Evans, Chris Hemsworth, Jeremy Renner, Jimmy Kimmel, Mark Ruffalo, Mark Wahlberg, Miles Teller, Reese Witherspoon, Scarlett Johansson, Sofia Vergara, Vin Diesel plus more will get a chance to feast on the naughty donuts that were under attack. The young visionary has recently signed a book deal, and is preparing for the launch of her goods in Whole Foods and Balducci's gourmet markets.
According to Ramos, the MTV Movie Awards Collection of donuts was inspired by some of the leading movie titles up for nomination. Listed titles include blockbuster hit's Gone Girl, The Purge, Boy Next Door, Whiplash, and more. Ramos' decadent treats will be adorned with edible 24k gold leaf, black truffles, and Parisian fleur de sel. Eager to satisfy the palette, the young pastry chef has also been working very close with high-end importers from around the globe who purvey specialty chocolates, vanilla bean, caramel and other fine ingredients to include in her debut "2015 MTV Movie Awards" Donut Collection. Tiana will be serving her donuts at the MTV press junket on Thursday April 9th and in the press room on show day at the Nokia Center.
Tiana also reports that she will be taking her Naughty Girls Donut Shop to West Hollywood on Sunday April 12th from 10:00 am pst – 2:00pm pst. The teen has set up her first L.A pop up shop at the popular Toy Art Gallery (TAG) located at 7571 Melrose Ave. in Hollywood. Media, local residents and tourist are welcomed to come out and meet Ramos and her staff. Autographed boxes of donuts will be sold to patrons.
The Huffington Post, Wall Street Journal, USA Today, FOX News, and media alike have recently featured naughty Girls Donut shop.
About Naughty Girls Donut Shop:
Naughty Girls Donut Shop is a Rockabilly business inspired by all of America's favorite pin up girls. The shop is fueled by a troop of teens who suit up daily in themed costumes to create an authentic Americana Pastry Experience. 17-year old Tiana Ramos and Mother Natalie Ramos co-own the business. Tianna and her staff make donuts before school, attend classes and then return to the shop to work after school. These teens are unique in their drive and commitment to community, facilitating a Stop Bullying social campaign to better the world and empower others. The Naughty Girls name is a reflection of the fun and flirty attitudes of the pin-up girls, and the deliciously decadent desserts that we allow ourselves when we want to indulge -- when we're feeling "naughty." Upon Tiana receiving financial support from a random investor, Naughty Girls opened their flagship store in Front Royal, Virginia in June of 2014. The company now reports plans for expansion. For more information on the Naughty Girls Donut Shop brand please visit http://www.naughtygirlsdonutshop.com
About MTV:
MTV is the world's premier youth entertainment brand. With a global reach of more than a half-billion households, MTV is the cultural home of the millennial generation, music fans and artists, and a pioneer in creating innovative programming for young people. MTV reflects and creates pop culture with its Emmy®, Grammy® and Peabody® award-winning content built around compelling storytelling, music discovery and activism across TV, online and mobile. MTV's sibling networks MTV2 and mtvU each deliver unparalleled customized content for young males, music fans and college students, and its online hub MTV.com is a leading destination for music, news and pop culture. MTV is a unit of Viacom Inc., one of the world's leading creators of programming and content across all media platforms. For more information, go to http://www.mtvpress.com.
For media inquiries please contact:
Tiffiany Vaughn Jones
Brash Worldwide Communications
T: 856.313.2012
E:Tiffiany(at)brashworldwide(dot)com
Natalie Ramos
Naughty Girl Donut Shop
T:540-849-9784