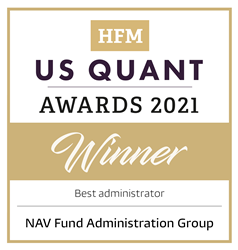 "It was certainly a challenging year, but our team did an excellent job to keep our operations flowing smoothly," said NAV COO Ambuj Garg. "We focused on maintaining optimal productivity, availability, and responsiveness. We also appreciated our clients' flexibility and proactive feedback."
OAKBROOK TERRACE, Ill. (PRWEB) March 04, 2021
NAV Fund Administration Group, a leading provider of administrative services to alternative asset managers, was announced as Best Fund Administrator at the HFM US - Quant Services Awards, held virtually on February 25.
The HFM US Quant Services Awards "celebrate those service providers who have gone above and beyond over the past year to provide excellent client service and innovation." With the premise that the disruption and uncertainty caused by Coronavirus encouraged funds to look to their service providers and partners to support them through the challenges, the awards recognize that "demonstrating exceptional client service and innovation is more important than ever before."
NAV was also named Best Administrator at the HFM European Quant Services Awards in October 2020.
"It was certainly a challenging year, but our team did an excellent job adjusting our IT and communications infrastructures to keep our operations flowing smoothly," said NAV COO Ambuj Garg. "We focused on maintaining optimal productivity, availability, and responsiveness to our clients and to each other. We also appreciated our clients' flexibility and proactive feedback and look forward to continuing to collaborate on shared successes in the year ahead."
The award ceremony capped the one-day online HFM US Quant Summit 2021, featuring industry speakers, roundtable discussions, and virtual networking opportunities. NAV was named Best Administrator by a judging panel of leading executives of CTA managed futures and quant hedge funds. Judging criteria included:

Commercial success and business growth, including quant hedge fund/CTA client wins
Demonstration of service innovation
Description of future service development possibilities
Positive customer feedback via submitted testimonials
About NAV Fund Administration Group
Founded in 1991, NAV is a privately-owned fund administrator recognized for its innovative and cost-effective fund administration solutions. A dynamic team of more than 1,000 professionals provide services to 1,000+ Hedge Fund, Private Equity & Real Estate Funds, CTA, and Managed Account clients across the globe while maintaining a 99% client retention rate. The company is headquartered in the United States, with three facilities in India supporting Back Office and Middle Office services, and locations in Singapore and the Cayman Islands. NAV ranks among the top 10 global hedge fund administrators by number of funds, and services more than $110 billion AUA. All operations are ISAE 3402 Type 2 certified.
About HFM
HFM supplies the intelligence hedge fund professionals need to raise assets, allocate funds, source new business opportunities and understand the market. HFM is part of Pageant, a global business intelligence provider servicing the asset management industry — from hedge funds and mutual funds to private equity, real estate and credit/debt. #HFMAwards #USQuant