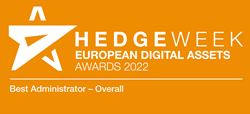 "We're proud of our global achievement in crypto fund admin services," said Rajat Jain, NAV Vice President – Fund Accounting & Digital. "Our technology, experienced team, and competitive pricing offer a superior choice for comprehensive services and a stable partner during periods of volatility."
OAKBROOK TERRACE, Ill. (PRWEB) July 12, 2022
NAV Fund Administration Group, a leading provider of administrative services to alternative asset managers, was announced as Best Fund Administrator at the inaugural European Digital Assets Awards, hosted by industry publication Hedgeweek in London on June 29. The firm also won Best Fund Administrator honors at the Hedgeweek US Digital Assets Awards earlier this year.
"We're proud to have been recognized for global achievement in crypto fund administration services," said Rajat Jain, NAV Vice President – Fund Accounting and Digital. "Our proprietary technology, experienced team, and highly competitive pricing offer crypto fund managers around the world a superior choice for comprehensive, flexible services and an established, stable partner during periods of change and volatility."
Nominations were based on annualized performance over a 12-month period from September 1, 2020 to August 31, 2021. More than 100 fund managers and other key industry participants were surveyed to compile a nominee shortlist, followed by an online poll to determine the winner. The poll included nearly 10,000 total votes cast comprised of 45% fund managers, 35% service providers, and 20% investors.
"NAV is an industry leader and the largest and most experienced cryptocurrency fund administrator," said Sumit Sharma, NAV Assistant Vice President. "We currently work with more than 600 crypto funds and offer connectivity to 140+ exchanges and counterparties. Our range of cost-effective benefits to crypto fund managers include detailed reporting and prompt delivery timelines, proven institutional appeal, and superior client services." CLICK HERE for more info about NAV Cryptocurrency Services
Beyond crypto fund support, NAV has offered fund administration services across all alternative asset fund types and strategies for more than 30 years. The latest award marks NAV's fourth "Best Administrator" award this year to date – including Best Fund Administrator for Small/Start-Up Funds at the Fund Intelligence Operations & Services Awards in March and Best Fund Administrator at the HFM US Quant Services Awards in February – in addition to the Hedgeweek Best Fund Administrator honors at the US Digital Assets Awards in March.
About NAV Fund Administration Group
Founded in 1991, NAV is a privately owned fund administrator recognized for its innovative and cost-effective fund administration solutions. A dynamic team of more than 2,250 professionals provide services to 2,000+ funds across the globe -- including hedge fund, private equity fund, and cryptocurrency fund clients -- while maintaining a 99% client retention rate. The company is headquartered in the United States, with four facilities in India supporting Back Office and Middle Office services, and locations in Australia, the Cayman Islands, and Singapore. NAV ranks among the top 10 global hedge fund administrators by number of funds, servicing more than $180 billion AUA.
About Hedgeweek
Launched in 2002, Hedgeweek covers hedge fund industry news for investors and fund managers. It provides news, features, research, awards and events for the global hedge fund industry. Hedgeweek is part of Global Fund Media Ltd, which publishes six specialist newswires covering all asset classes within the institutional investor marketplace.