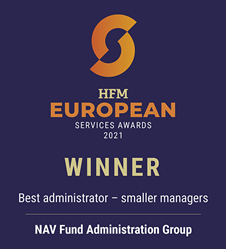 "Our cost-effective, full-service fund administration services are especially valuable to smaller and emerging managers," said NAV COO Ambuj Garg. "We offer responsive support and a proprietary infrastructure that enable clients to scale with NAV as their assets, investor base, and needs grow."
OAKBROOK TERRACE, Ill. (PRWEB) March 30, 2021
NAV Fund Administration Group, a leading provider of administrative services to alternative asset managers, was named Best Administrator – Smaller Managers at the HFM European Services Awards 2021. The industry recognition program was hosted virtually on March 23.
The HFM European Services Awards "reward hedge fund service providers who demonstrate exceptional client service, innovation, and strong and sustainable business growth." With a rigorous judging process and awards in 44 categories, the HFM European Services Awards aim to "ensure current and future clients that winners are leading the way in a competitive sector."
NAV was also named Best Administrator at the HFM U.S. Quant Services Awards last month.
"We have committed to the philosophy that every client – regardless of size – merits superior quality of service and support," said NAV COO Ambuj Garg. "Our cost-effective, full-service fund administration services are especially valuable to smaller and emerging managers. We offer responsive, professional support and a proprietary infrastructure that enable clients to scale with NAV as their assets, investor base, and needs grow."
The judging panel – comprised of leading hedge fund COOs, CFOs, CCOs, GCs, and CTOs – evaluated entrants on diverse criteria, with particular reference to the challenges presented by the Covid-19 crisis:

Commercial success
Innovation
Service delivery and client retention
Business diversity and inclusion
Positive client feedback via submitted testimonials
# # #
About NAV Fund Administration Group
Founded in 1991, NAV is a privately-owned fund administrator recognized for its innovative and cost-effective fund administration solutions. A dynamic team of more than 1,200 professionals provide services to 1,400+ Hedge Fund, Private Equity & Real Estate Funds, CTA, and Managed Account clients across the globe while maintaining a 99% client retention rate. The company is headquartered in the United States, with three facilities in India supporting Back Office and Middle Office services, and locations in Singapore and the Cayman Islands. NAV ranks among the top 10 global hedge fund administrators by number of funds, and services more than $110 billion AUA. All operations are ISAE 3402 Type 2 certified.
About HFM
HFM supplies the intelligence hedge fund professionals need to raise assets, allocate funds, source new business opportunities and understand the market. HFM is part of Pageant, a global business intelligence provider servicing the asset management industry — from hedge funds and mutual funds to private equity, real estate and credit/debt. #HFMAwards