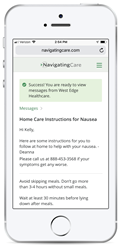 We love Home Care Instructions because it is an important solution for closing the loop with our patients.
SEATTLE (PRWEB) May 08, 2019
Navigating Cancer, a leader in oncology patient relationship management, today announced a new capability called Home Care Instructions, for users of the triage functionality of its Navigating Care patient relationship management solution.
Home Care Instructions provides patients with a convenient, secure way to access their follow-up instructions anytime, anywhere from a mobile device.
Digital and mobile technologies have the power to make healthcare more accessible, improve the patient experience and lower operational costs. By leveraging these technologies, care teams can better help their patients in a way that's convenient for them and effective for the patient. With 24/7 digital access to information, patients have added support throughout their treatment.
HOME CARE INSTRUCTIONS PROVIDES IMMEDIATE COMMUNICATION
As a care team member manages an incident – whether it's managing a symptom, refilling a medication, providing test results or just answering a general question – they can now follow up immediately in writing via text message, email or both. "We love Home Care Instructions because it is an important solution for closing the loop with our patients. I am excited about the possibilities to help patients in even more ways," said Leigh Ward, BSN, RN, OCN, triage team lead at The Center for Cancer and Blood Disorders in Fort Worth, Texas.
Home Care Instructions improves the level of real-time care. The mobile-optimized service gives patients an additional and convenient way to access information on their preferred device, whether that's a smartphone, tablet or desktop computer. And with customizable message fields, triage nurses can personalize instructions and select specific interventions that are individualized for each patient. This is a powerful tool for cancer patients as they deal with complex treatment regimens and manage side effects at home.
Home Care Instructions is already being used by a number of oncology practices. "Our triage staff is finding Home Care Instructions to be very helpful in communicating with our patients. Since they are already documenting this information in the health record, it is an easy way to provide information to the patient, while eliminating any misinterpretation of instructions. Home Care Instructions is a welcome addition to our triage department," said Michelle Holden, clinical teams manager at Northwest Medical Specialties in Tacoma, Washington.
Navigating Cancer continues to build a robust mobile experience for patients, including remote monitoring for medication adherence and symptom reporting, as well as the timely delivery of treatment-related information. Home Care Instructions is the next step to ensure that patients have the tools and resources they need throughout treatment.
About Navigating Cancer
Navigating Cancer, the leader in Patient Relationship Management software, was founded by two healthcare and technology veterans who saw a critical gap in oncology care – optimizing the patient experience. Today, with more than 1,700 providers adopting its platform, Navigating Care is the most broadly deployed patient management platform in the oncology industry. Navigating Cancer's comprehensive solution, which is used to manage over 1 million patients, is essential to delivering better care experiences, reducing the overall cost of care and enabling oncology care innovation. https://www.navigatingcancer.com/.