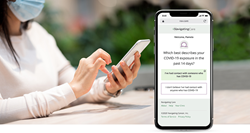 SEATTLE (PRWEB) September 08, 2020
Today, Navigating Cancer announced a new COVID-19 Screening Survey to automate screening before patient appointments - available free to customers using its care management solution. This new capability builds on the platform's existing functionality that has already been delivered to help practices safely and effectively manage cancer patients through the coronavirus crisis.
Navigating Cancer, in collaboration with Merck, American Cancer Society (ACS) and Amazon Web Services (AWS), Inc., is a key component of cancer programs' comprehensive telehealth strategy to respond to the pandemic. The company is delivering new product capabilities that enable oncology practices to more effectively manage patient and provider safety and future infectious disease events. In May, Navigating Cancer also added a COVID-19 symptom management pathway to its triage solution and enhanced its home care instructions feature so that COVID-19 information can be easily sent directly to patients via text or email. This first phase of advances was available immediately and are already in use by oncology practices across the nation.
COVID-19 has created a new level of complexity for oncology practices as they care for one of the most vulnerable populations in the country. Their processes and procedures need to evolve to ensure that their patients, their staff, and their clinics are not exposed to COVID-19 for patient safety reasons. Simultaneously, it is crucial that these clinics remain open for business in order to deliver the essential and time-critical care their patients require to receive treatment for their cancers.
"Cancer patients are one of the most vulnerable populations and their providers need all the tools they can get, especially in light of the COVID-19 pandemic," said Mike Krepps, Principle of the American Cancer Society's Brightedge Ventures. "We are excited to see these timely advances from Navigating Cancer. BrightEdge Ventures is the philanthropic impact fund of the American Cancer Society."
In addition to capabilities specific to the COVID-19 response, Navigating Cancer's cloud-based digital platform has been an important tool for care teams to maintain care continuity even during the pandemic. The application can be securely accessed by staff members working from home and includes advanced communication tools so that information can easily be delivered to entire patient populations. By leveraging AWS, Navigating Cancer is able to innovate and rapidly scale the solution for a broader swath of the cancer community as they respond to COVID-19 and prepare for potential infectious disease events in the future. Patients can also be monitored remotely via Navigating Cancer's Health Tracker solution. This electronic patient-reported outcomes program prompts patients to report side effects, oral adherence or barriers to care they may be experiencing and helps practices proactively provide remote care and prevent unnecessary hospital visits. In an April 2020 survey on Health Tracker, 93 percent of patients reported that Health Tracker was a useful tool to get their side effects addressed.
"This expansion of Navigating Cancer's solution for patients and providers is exciting news and a great demonstration of the innovation and scalability inherent in using AWS," said Shez Partovi MD, Director of Worldwide Business Development for Healthcare, Life Sciences and Genomics at AWS. "We are looking forward to working with Navigating Cancer to bring the COVID-19 Screening Survey to the healthcare community as they respond to COVID-19 and prepare for potential infectious disease events in the future."
About Navigating Cancer
Navigating Cancer is a digital health company focused on improving the lives of cancer patients and those who care for them. Our comprehensive Navigating Care platform helps providers boost their financial performance, enables more effective remote care management, and delivers a better patient experience while providing valuable insights for oncology innovation. With over 1,800 providers using the Navigating Care platform to care for over 1 million patients, it is the most broadly deployed oncology patient management solution in the US. For more information, please visit http://www.navigatingcancer.com or follow Navigating Cancer on Twitter @navcancer.