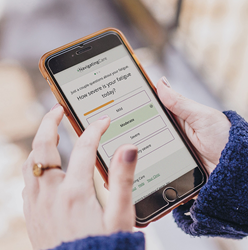 At Navigating Cancer we're passionate about delivering solutions that advance patient care and safety for health care workers and patients alike. Health Tracker is a great example of that.
SEATTLE (PRWEB) June 09, 2020
Navigating Cancer, the developer of the most broadly deployed patient relationship management (PRM) platform in oncology, today announces the next era of electronic patient-reported outcomes (ePRO) with the release of its newest Health Tracker Remote Monitoring solution.
As the COVID-19 pandemic accelerates the adoption of digital health technology for vulnerable cancer patients, remote monitoring and telehealth are emerging as critical tools for providers to stay connected, deliver proactive care, and help patients avoid unnecessary hospital visits.
An established innovator in oncology patient solutions, Navigating Cancer first released Health Tracker in 2015 to enable care teams to provide high response assistance for symptom management and monitor compliance for oral therapies. Today the company launched its redesigned Health Tracker program making it even easier for patients to stay connected to their care team - regardless of their level of technological literacy. In an April 2020 survey on Health Tracker, 93% of patients reported that Health Tracker was a useful tool to get their side effects addressed. One patient commented, "I feel very cared for and it's so easy!"
A landmark study published in 2017 found that ePROs extended patients' lives and also reduced the cost of care including a 7% reduction in emergency department visits. To ensure all patients have access during treatment, Health Tracker is designed to be easy-to-use and accessible by a wide array of patients. Patients can participate via smartphone, tablet, laptop or desktop computer as well as receive reminders via text message or email. Health Tracker 2.0 also features "Clinic Collect" which enables the care team to schedule and complete patient check-ins by phone on behalf of participating patients. These features eliminate many barriers that other ePRO tools face in the market.
Rhonda Hastings, RN OCN, Nursing Manager at Minnesota Oncology said, "We work to enroll all patients starting therapy, to treat their oncology diagnosis in the program and have been very pleased with the high participation rate and the added insights we are gaining about our patients when we can't be with them." Minnesota Oncology launched Health Tracker in February and has seen steady participation rates of over 75% of enrolled patients.
In addition to versatile options for patient participation, the biggest challenge to widespread adoption of ePRO tools in clinical practice is integrating them into existing workflows. Health Tracker integrates seamlessly with Navigating Cancer's Care Management and triage solution which is currently utilized by over 1,800 providers across the US. Additionally, new features enable patients to request a call or a medication refill with a click of button, making it easier for patients to receive support. This integrated workflow enables cancer care providers to easily scale an ePRO program within the practice's already established triage and symptom management operations.
"Health Tracker 2.0 takes into account utilization metrics, practice feedback, and patient input to create a streamlined solution for remote symptom management and oral compliance," said Chief Product Officer Michael Graff. "At Navigating Cancer we're passionate about delivering solutions that advance patient care and safety for health care workers and patients alike. Health Tracker is a great example of that."
Navigating Cancer scientific medical advisor and leading PRO researcher, Dr. Ethan Basch said, "Navigating Cancer has been a pioneer in solutions that allow ePROs to be integrated into clinical workflow. I'm looking forward to seeing the impact of their new approach on patient care and satisfaction."
About Navigating Cancer
Navigating Cancer is an oncology digital health company focused on improving the lives of cancer patients and those who care for them. Our comprehensive Navigating Care platform helps providers boost their financial performance, enables more effective remote care management, and delivers a better patient experience while providing valuable insights for oncology innovation. With over 1,800 providers using the Navigating Care platform to care for over 1 million patients, it is the most broadly deployed oncology patient management solution in the US.
For more information, please visit http://www.navigatingcancer.com or follow Navigating Cancer on Twitter @navcancer.