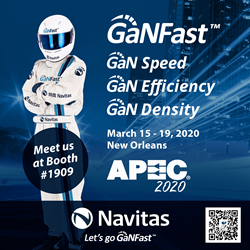 With over 50 OEM products and reference platforms available, every OEM and ODM in the mobile charger industry can move quickly to participate in this creation of a new GaNFast charger product category
EL SEGUNDO, Calif. (PRWEB) February 28, 2020
Navitas Semiconductor announced today that the company will showcase over 50 GaNFast-enabled mobile charging products & platforms at the Applied Power Electronics Conference (APEC) March 15-19, 2020 at the New Orleans Ernest N. Morial Convention Center, New Orleans, Louisiana. Navitas GaN power ICs enable wall chargers for mobile devices to deliver up to 3x faster charging in half the size and weight compared to traditional slow, bulky silicon-based chargers.
"APEC attendees can witness first-hand the extraordinary impact that GaN ICs are having to create a new generation of mobile fast chargers" explained Stephen Oliver, Vice-President of Sales and Marketing. "With over 50 OEM products and reference platforms available, every OEM and ODM in the mobile charger industry can move quickly to participate in this creation of a new GaNFast charger product category."
Recent GaN mobile chargers are featured on GaNFast.com, the industry's leading resource to discover GaN chargers and latest news media covering fast-charging USB-C, PD/PPS, VOOC, QC and other charging protocols. Latest releases include:

APEC visitors will learn about the latest Navitas GaNFast devices and reference designs that achieve unprecedented small size, light weight and high efficiency levels, with fast-charging speeds for end-products ranging from smartphones and laptops to on-board, fast-charging eMobility solutions.
To request an APEC meeting with Navitas, contact +1 ThinkGaNIC (844-654-2642) or email info@navitassemi.com.
Navitas will present real-life, mass-production examples of next-generation fast-charging solutions at the conference:

"High-Density 65W USB-PD GaN Chargers: Market Demand, Technical Solutions and Pricing", Stephen Oliver
Wednesday 18th March 9.15am, Production Use Cases of Wide Bandgap Semiconductors Session, IS08, R02-R03, #3540
"Navigating the Optimal USB-PD Fast-Charger Topology Maze from 27W to 100W+" Xiucheng Huang, Tom Ribarich, Stephen Oliver
Thursday 19th March 9.15am, GaN Applications and Integration Session, IS19, R04-R05, #3159
Visitors to booth #1909 can be winners with our "GaNFast Give-Away!

"Are You GaNFast?": Experience the fast-charging experience using your own mobile device & a chance to win a free GaNFast charger.
"Beat the GaNMan!": Race against the mysterious GaNMan in our high-speed race simulator. If you are GaNFast, you can win a free GaNFast charger while the fastest lap of the show gets $1,000 cash!
About Navitas: Navitas Semiconductor Inc. is the world's first and only GaN Power IC company, founded in 2014 and based in El Segundo, CA, USA. Navitas has a strong and growing team of power semiconductor industry experts with a combined 200 years of experience in materials, devices, applications, systems and marketing, plus a proven record of innovation with over 200 patents among its founders. A proprietary process design kit monolithically integrates the highest performance GaN FETs with GaN logic and GaN analog circuits. Navitas GaNFast Power ICs enable smaller, higher energy efficient and lower cost power for mobile, consumer, enterprise and new energy markets - over 100 Navitas patents are granted or pending.
About APEC:
As the premier event in applied power electronics, APEC focuses on the practical and applied aspects of the power electronics business. This is not just a designer's conference; APEC has something of interest for anyone involved in power electronics:

Equipment OEMs that use power supplies and dc-dc converters in their equipment
Designers of power supplies, dc-dc converters, motor drives, uninterruptable power supplies, inverters and any other power electronic circuits, equipment and systems
Manufacturers and suppliers of components and assemblies used in power electronics
Manufacturing, quality and test engineers involved with power electronics equipment
Marketing, sales and anyone involved in the business of power electronics
Compliance engineers testing and qualifying power electronics equipment or equipment that uses power electronics.
###
Navitas Semiconductor, GaNFast and the Navitas logo are trademarks or registered trademarks of Navitas Semiconductor, Inc. All other brands, product names and marks are or may be trademarks or registered trademarks used to identify products or services of their respective owners.