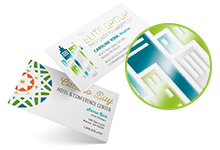 "We know that, previously, many of our customers were only able to order raised foil in gold or silver from their print providers," said Jacobson. "That's why we've worked hard to debut our enhanced finishes selection with eight different standard colors and silver holographic."
NORTH MANKATO, Minn. (PRWEB) April 05, 2019
Navitor is pleased to announce the addition of enhanced finishes to their offering of print processes. This new selection, which includes raised foil, spot gloss and raised spot gloss, can be paired with full color print to create announcements, business cards and postcards.
Raised foil creates a raised metallic design with tactile appeal, and according to Deanie Jacobson, Product Manager, this finish will be available in nine different foil colors. "We know that, previously, many of our customers were only able to order raised foil in gold or silver from their print providers," said Jacobson. "That's why we've worked hard to debut our enhanced finishes selection with eight different standard colors and silver holographic."
Spot gloss (sometimes called spot UV) and raised spot gloss are also joining Navitor's new selection of enhanced finishes. These processes allow customers to apply a glossy coating to emphasize selected areas of their full color design or to use that coating to create a design element on its own.
Navitor is also debuting a new option for proofing, says Mike Johnson, Vice President of Sales and Marketing. "Because we understand that our customers want their designs to be perfect, we are offering our customers the opportunity to order a quantity of one piece for a small fee. This ensures that their design is exactly the way that their client wants it before placing a full order."
Enhanced finishes announcements, business cards and postcards can be ordered through the Navitor catalog or website. More information about Navitor and the company's selection of specialty printed products can be found at Navitor.com.