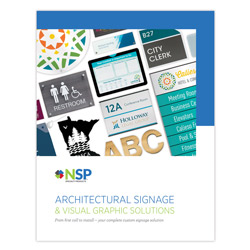 NORTH MANKATO, Minn. (PRWEB) April 02, 2019
Navitor Specialty Products just released its new Architectural Signage and Visual Graphics catalog. This catalog features ADA (Americans with Disabilities), wayfinding, and specialty signage. The catalog also introduces new sign audit and installation services to support specialty signage projects.
The first section of the catalog is dedicated to Inspiration and will open your eyes to what is possible with signage and visual graphics. Untreated spaces are transformed using the signage products featured in the catalog.
But transforming a space can be an intimidating undertaking. In the second section, we take the fear out of the Process. We can help you identify the signage you need by doing a sign audit and we can coordinate the installation for you as well. From the first call through the install, our team of professional project managers will be by your side every step of the way.
Having shown how signage can transform a space and demonstrated the project management support that is available, it's now time to turn to Products. NSP's product and design capability is on display throughout this image-rich section. Few, if any, other firms can offer the depth and breadth of custom and standard products that are available through NSP. ADA and architectural signage share the stage with products designed for interior design and decor and special events.
The catalog concludes with some helpful Information about the American with Disabilities Act and ADA compliant signage. This can be a confusing topic and common questions are addressed and clarified.
Navitor Specialty Products (NSP) is an innovator in custom digital print signage and and marking products serving resellers and contractors in the construction, printing, promotional products, marketing, and retail industries. Headquartered in North Mankato, MN, NSP delivers quality products and exceptional service by partnering with our customers to turn their ideas into products that transform, communicate, brand, and beautify. NSP is part of the Taylor Corporation family of companies. For more information, visit our website at navitorSP.com