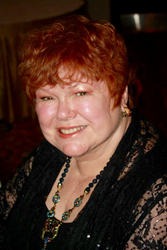 I am looking forward to participating in the growth of a company that offers such critical life saving technology, Peggy Norris
Chatham, NJ (PRWEB) September 25, 2015
Desktop Alert Inc. announced today that Peggy Norris has been appointed to the Desktop Alert advisory board.
Margaret (Peggy) Norris has over 37 years of experience in government contracting and procurement, and 26 of those years were spent in Navy and Marine Corps contracting and procurement. DAWIA III certified, she has been Branch Chief/Contracting Officer for the Corps' ammunition, ground weapons, amphibious assault vehicles, basic and applied R&D, recruit advertising and media, manufacturing technology, joint non-lethal weapons programs, and the Marine Corps Warfighting Laboratory. She has been cited numerous times for her sustained superior performance, special achievements, and has two Meritorious Unit Commendations on her record. Ms. Norris served as Head of Contract Policy at the Marine Corps Systems Command and has represented the U.S. Marine Corps at high levels throughout the U.S. Department of Defense until 2002.
"We are thrilled and honored by Peggy's decision to join Desktop Alert", said Howard Ryan, CEO Desktop Alert Inc.
While dedicated contracting officer for Marine Corps at the Naval Sea Systems Command, Peggy was in charge of procurement for a $6.6B major weapons system, upgrades for current AAV vehicle, ADP, and engine propulsion technology which required coalition building with other Government officials and major Government contractors. Also, while a Supervisory Contracting Officer at the Naval Regional Contracting Center at the Washington Navy Yard, Peggy personally headed the Industrial Contracts Branch directing the activities of a staff that had as many as 250 requisitions in process. Peggy was in charge of comprehensive acquisition planning, contract negotiation and the management of the Navy's metalworking commodity assignment, material handling systems, and basic/applied research in manufacturing technology.
"For several years I have watched Desktop Alert emerge as a leading mass notification platform with International, DoD and Federal selections by NATO, Northern Command, the National Guard, FEMA Headquarters and beyond. I am looking forward to participating in the growth of a company that offers such critical life saving technology", said Norris.
About Desktop Alert: https://www.desktopalert.net
Desktop Alert's innovative and patented software, internationally recognized as the "Best Mass Notification" and "Best First Responder Interoperable Communications" system is the leader in providing comprehensive notification, accountability and situational awareness solutions. The Desktop Alert Notification system is designed to provide a suite of scalable, flexible, and adaptable communication, coordination, and collaboration tools in environments ranging from austere - no terrestrial infrastructure support - to fully modern with extensive IP and legacy system integration's. Desktop Alert allows individuals and organizations to accelerate the flow of information in order to ensure effective decision making, coordination, proactive community engagement, and public awareness.