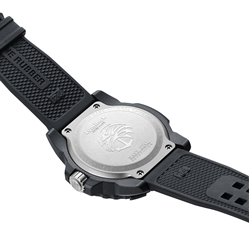 "We are extremely grateful to Luminox for all their support over the years and couldn't be more excited about them becoming an Official Partner," said Chris Irwin, Director of Partnerships, NSF.
VIRGINIA BEACH, Va. (PRWEB) July 01, 2020
The Navy SEAL Foundation announced today that it will celebrate Independence Day by welcoming world renowned watchmaker Luminox as a new official sponsor.
Although Luminox has been a long-time partner and supporter of the U.S. Navy SEALs, the company today extends that relationship becoming an Official Partner of the Navy SEAL Foundation (NSF).
Since its founding in 2000, NSF has been the premier benevolent organization supporting the Naval Special Warfare (NSW) community and its families.
The partnership announced today includes Luminox's three-pronged commitment to the Foundation: the release of collaborative, limited-edition timepieces; sponsoring of various athletic events that support the NSF and gifting watches to winners; and sponsoring the Spartan Race team to help spread awareness and raise funds for the Foundation.
"We value all the sacrifices the Navy SEALs and their families make to bring safety and security to this country. They are an essential part of Luminox's history, trusting in us, and becoming a guide for our brand. Continuing our relationship with the Navy SEAL Foundation gives us the chance to give back to the community that has provided us all with so much," said Lumondi CEO, Lluis Sole.
"We are extremely grateful to Luminox for all their support over the years and couldn't be more excited about them becoming an Official Partner," said Chris Irwin, Director of Partnerships for NSF. "They have been dedicated to the mission of NSW for nearly 30 years so this partnership only demonstrates the strength of their resolve."
The first installment of the collaborative watches will be a Navy SEAL 3500 Series designed exclusively with the NSF which will be available for purchase online and at select retailers starting today, July 1, 2020. The "3503.NSF" features a blue dial with yellow accents, the colors of the foundation, as well as the NSF logo engraved on the caseback. It is constructed from ultralight and ultradurable CARBONOX™, and features Luminox's Light Technology, making sure that your timepiece is visible in any light conditions for up to 25 years. In addition to the Navy SEAL 3503.NSF watch, Luminox will also release two additional models in collaboration with NSF – a Limited Edition Navy SEAL 3001 (limited to 600 pieces to be released later this summer) and a Navy SEAL 3050 Series, to be released next year. With the introduction of these models, the Navy SEAL Foundation will be represented in each evolution of Luminox's Navy SEAL Series, further strengthening the partnership and highlighting the history of support between Luminox and the Navy SEALs.
# # #
About Luminox
Luminox, the original self-powered luminous watch brand, is the watch of choice for global outdoor adventure icon Bear Grylls, U.S. Navy SEALs, The Icelandic Association for Search and Rescue (ICE-SAR), Lockheed Martin's F-117 Nighthawk™ stealth and other jet fighter pilots, elite forces worldwide and professional divers. Luminox watches glow up to 25 years in any light condition. Always Visible, tough, powerful and accurate, Swiss-made Luminox is the ultimate night vision gear for rugged outdoorsmen and other peak performers. Visit the website: http://www.luminox.com
US PR information Contact: Dallas Thayer (dthayer@paulwilmot.com)
About the Navy SEAL Foundation:
The mission of the Navy SEAL Foundation (NSF) is to provide immediate and ongoing support and assistance to the Naval Special Warfare (NSW) community and its families, the families of NSW fallen, and SEAL and SWCC veterans.
U.S. Navy SEALs have been in sustained combat for nearly two decades, performing hazardous work in unforgiving environments at an unrelenting pace. NSW operators are currently deployed in over 30+ countries across the globe and can spend up to 270 days each year in harm's way.
The Navy SEAL Foundation stands behind these warriors and their families by providing a comprehensive set of programs specifically designed to improve health and welfare, build and enhance resiliency, empower and educate families and provide critical support during times of illness, injury or loss.
Like the community it serves, the Navy SEAL Foundation is a high performing organization committed to excellence. NSF has been awarded the coveted 4-Star rating from Charity Navigator since 2011 and has earned a perfect score of "100" each year since 2016 for financial health, accountability, and transparency, placing NSF in the top 1% of rated charities. Ninety-five cents of every dollar donated goes directly to programs or is retained for future mission use.
The Navy SEAL Foundation is a 501c3 national non-profit charitable organization. TAX-ID 31-1728910. NSF is a non-federal entity, and it is not a part of the Department of Defense or any of its components, and it has no governmental status. To learn more, visit https://www.navySEALfoundation.org.