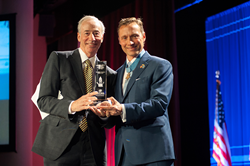 "We are profoundly grateful to those in the armed services and their families who have sacrificed so much for the sake of their missions, the defense of our nation and the safeguarding of our freedoms, which we can never take for granted." Joel S. Marcus, Executive Chairman and Founder of ARE
NEW YORK (PRWEB) March 11, 2020
Last Thursday, dedicated patriots and supporters gathered at the New York Marriott Marquis for the Navy SEAL Foundation's New York City Benefit Dinner, a cornerstone of the organization's fundraising efforts. This annual event recognizes the courage, commitment and sacrifice of the Naval Special Warfare (NSW) community, and this year's event served to commemorate a milestone for the organization: twenty years of support for the Naval Special Warfare community.
The Navy SEAL Foundation was pleased to recognize Alexandria Real Estate Equities, Inc. and its Executive Chairman and Founder, Joel S. Marcus, as the 2020 Navy SEAL Foundation Patriot Award Recipients. The NSF Patriot Award recognizes individuals and organizations that contribute greatly to our nation and it serves to recognize those who embody the values that epitomize the SEAL community. Mr. Marcus and his team at Alexandria have supported the Foundation since 2010, investing in programs to enrich resiliency, health, and welfare for the SEAL community.
Medal of Honor recipient and retired U.S. Navy Master Chief Special Warfare Operator, Britt Slabinski presented the award to Mr. Marcus at Thursday's event. "Joel served his nation as a medic in the Air Force. It's there, perhaps, while watching fellow service members return home traumatized by war that his convictions and compassions were cemented," said Slabinski. "His commitment to those that serve continues as he focuses all that Alexandria has to this end. He is a man who knows that intellectual capital is as crucial as financial capital, a man who believes teamwork is vital to all great success. A man who believes courage is a choice and he makes that choice every day. A man who lives by his convictions regardless of the cost and a man who's compassion for humanity is unwavering."
"On behalf of the women and men who make up the Alexandria family, we are deeply humbled, honored and blessed to accept the prestigious 20th anniversary Patriot Award," said Mr. Marcus. "We are profoundly grateful to those in the armed services and their families who have sacrificed so much for the sake of their missions, the defense of our nation and the safeguarding of our freedoms, which we can never take for granted. We all have a responsibility to ensure that our national heroes remain healthy and resilient and that, along with their families, they receive the tools they need to live full, productive and happy lives."
After dinner, Theodore Roosevelt IV, BUD/s Class 36, and great-grandson of President Theodore Roosevelt delivered a moving tribute to the members of NSW who are no longer with us.
Retired U.S. Navy Four-Star Admiral William H. McRaven delivered the evening's keynote address and spoke about the virtues of the SEAL warrior by breaking down the SEAL Creed one section at a time. He spoke of honor and sacrifice and he described those who wear the SEAL Trident as men who stand ready to defend our nation, no matter the personal cost.
Said McRaven, "So, if you want to know about the men you are supporting tonight, they are sons, and brothers, fathers and husbands, uncles and cousins. They are disciplined, hard-working, and determined to be the best at their craft. They are relentless in their pursuit of excellence. If you are their friend, they will die for you. If you are the enemy they will die to stop you. They will never quit, no matter what the cost." He continued, "Above all, in spite of their occasional shortcomings, they are honorable men who believe they are fighting for a noble cause. And you should know that they believe in you, the American citizen. They fight for you because you have shown, time and again, that you are worth it."
McRaven left the stage only to be called back up by the 15th Master Chief Petty Officer of the Navy Russell R. Smith, 9th Master Chief Petty Officer of the Navy James L. Herdt, 7th Master Chief Petty Officer of the Navy Duane R. Bushey, and Naval Special Warfare Force Master Chief Bill King where, to everyone's surprise, they bestowed him with the title of Honorary Master Chief.
This year's New York Benefit was chaired by Christopher D. Heinz and co-chairs included Bloomberg Philanthropies, BNBuilders, Vanessa and Henry Cornell, Metka and Jack Daly, DPR, Fiona and Stanley Druckenmiller, Eastdil Secured, Caroline and Ed Hyman, Eugenia and David Janke, Daniel S. Loeb, Anton LeRoy/BTIG, Michael J. Muldoon, Sean Parker/Parker Foundation, Harvey Schwartz, Truebeck Construction, Cindy and Tom Wagner, Alan Waxman/Sixth Street Partners and The Whiting-Turner Contracting Company. Trident Sponsors included Alexandria Real Estate Equities, Inc./Alexandria Venture Investments, Drue Heinz Charitable Trust, Heinz Family Foundation, Barbara and Joel Marcus, Nancy and Howard Marks, and the Zide Family Foundation. The 40-plus member Benefit Host Committee was led by Deron J. Haley, Anton LeRoy, and Brendan Rogers.
The 2021 Navy SEAL Foundation New York City Benefit Dinner is scheduled for March 4, 2021.
About the Navy SEAL Foundation:
The mission of the Navy SEAL Foundation (NSF) is to provide immediate and ongoing support and assistance to the Naval Special Warfare (NSW) community and its families, and this year they are commemorating 20 years and over $220 million invested in programs serving this dynamic community.
U.S. Navy SEALs have been in sustained combat for nearly two decades, performing hazardous work in unforgiving environments at an unrelenting pace. NSW operators are currently deployed in over 30+ countries across the globe and can spend up to 270 days each year in harm's way.
The Navy SEAL Foundation stands behind these warriors and their families by providing a comprehensive set of programs specifically designed to improve health and welfare, build and enhance resiliency, empower and educate families and provide critical support during times of illness, injury or loss.
Like the community it serves, the Navy SEAL Foundation is a high performing organization committed to excellence. NSF has been awarded the coveted 4-Star rating from Charity Navigator since 2011 and has earned a perfect score of '100' each year since 2016 for financial health, accountability, and transparency, placing NSF in the top 1% of rated charities. Ninety-five cents of every dollar donated goes directly to programs or is retained for future mission use.
The Navy SEAL Foundation is a 501c3 national non-profit charitable organization. TAX-ID 31-1728910. NSF is a non-federal entity, nor is it a part of the Department of Defense or any of its components, and it has no governmental status. To learn more, visit https://www.navySEALfoundation.org.