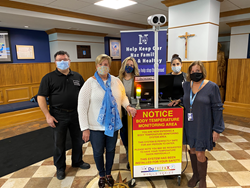 "We are delighted that Nazareth Academy can now welcome students and staff back to school with an easy temperature screening system in place," said Nick Dubak, Chief Operating Officer for Dubak Electrical Group.
LA GRANGE PARK, Ill. (PRWEB) October 26, 2020
Nazareth Academy, a college prep Catholic high school in La Grange Park, can now welcome students to school with the DuThermX Body Temperature Measurement System to help with safety screening. Dubak Electrical Group, based in La Grange, has donated a DuThermX Mobile Cart, a moveable, rechargeable, contact-free system that can be used at the building entry as part of the school's safety protocol. Visual or sound alarms alert staff to elevated temperatures.
Dubak Electrical Group launched DuThermX, the first fully integrated body temperature measurement system for industrial and commercial applications in the United States in April 2020. The contact-free, high-capacity system detects elevated body temperatures as large numbers of people enter schools, factories, healthcare facilities, buildings, and event venues. The DuThermX system uses advanced thermal camera technology and can be integrated with existing security systems.
(DuThermX videos and b-roll are available here and the online newsroom is here).
"We are so grateful to receive the generous donation of the DuThermX cart that will allow us to expedite the daily check-in process for students, faculty and staff as they arrive at school," said Therese Hawkins, Principal at Nazareth Academy. "Nazareth remains so very proud of the way our Hybrid Plan allows for in-person learning to occur for our students. We have developed comprehensive COVID health and safety protocols and the DuThermX cart helps us greatly in completing the first step - checking the temperatures of all who enter our building in the morning."
Nazareth Academy has been welcoming students for in-person learning since August. Their Hybrid Learning Plan uses a rotating schedule of in-person learning two full days per week combined with synchronous online classes and asynchronous lessons. The student body is split alphabetically to allow for adequate distancing.
"We are delighted that Nazareth Academy can now welcome students and staff back to school with an easy temperature screening system in place," says Nick Dubak, Chief Operating Officer of Dubak Electrical Group. "Our clients – including schools, businesses and buildings throughout Chicago and the country – are looking for simple solutions that can help return people to their daily activities without a lot of hassle. With DuThermX, people can enter without stopping for a screening or needing to remove a mask or face covering."
"This is a game changer for us," notes Kathy Gross, nurse at Nazareth Academy. "Along with practices already in place, such as mask wearing, social distancing, enhanced cleaning and hand washing measures; the DuThermX system will really help in our strategy to stop the spread of COVID19 in our school community."
DuThermX allows for continuous flow of visitors, integrates with existing security systems at large commercial buildings and industrial sites, and can provide facial recognition and data analysis. The DuThermX product line includes the DuThermX Venue Series, Walk Thru Series, Mobile Cart Series, Modular Container Series, Healthcare Series, Kiosk Series and Customized Solutions. These systems use advanced thermal camera technology, calibrators, monitors, and warning lights.
The DuThermX Difference
DuThermX is a contact-free and continuous flow system, which alleviates the need for manual screening and any bottle necks created by stopping people that often requires additional personnel at any venue entry point. It can be added to existing surveillance and monitoring systems or installed separately.
Easily, quickly, unobtrusively, DuThermX detects body temperatures within +/- 0.54 degrees Fahrenheit with a response time of 30 milliseconds. When a person passes through an entry point with an elevated temperature, an alarm alerts designated personnel. The multi notification alarm system can include audible, visual, email, SMS text, onscreen and network video capture. Additional DuThermX applications will be available for walk-thru entry, airport entrances, outdoor tunnels and event venues as well as offering solutions for smaller offices or businesses.
About Dubak Electrical Group
Dubak Electrical Group is a leader in industrial electrical construction and maintenance with more than three decades of experience. As family-owned-and-operated business, Dubak has an established record of success and safety in the design, installation and maintenance of industrial electrical, HVACR, control, and automation. The company opened a new corporate headquarters, training and technology facility in La Grange in 2016, in Chicago's western suburbs. Additional regional offices are located in Florida, Indiana, Iowa and Wisconsin. We are currently building a second innovation center opening in La Grange in 2021.
For more information on DuThermX: https://www.duthermx.com/
More information on Dubak Electrical Group

For a link to the DuThermX online newsroom with video b-roll and images go to: https://www.duthermx.com/media
# # #
MEDIA CONTACTS:
Chris Comes
Ripson Group for Dubak Electrical Group
Chris.comes@ripsongroup.com
(312) 493-5921 (o)
(312) 282-0539 (m)
Twitter: @ChrisComes
Alena Murgia
Nazareth Academy
amurguia@nazarethacademy.com
(708) 387-8536