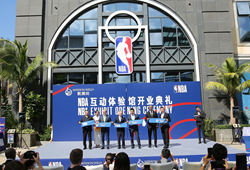 HAIKOU, China (PRWEB) November 17, 2018
Two-time NBA All-Star and three-time CBA Champion Stephon Marbury joined VIPs from NBA China and Mission Hills Group in Hainan to witness a ground-breaking ceremony for China's first "NBA Basketball School" at Mission Hills Haikou.
Marbury was also at Mission Hills to officially open the NBA's first permanent exhibition in China, "The Exhibit and Store".
The NBA Exhibit and Store and NBA Basketball School are part of a multi-year partnership between Mission Hills Group and NBA China, announced in 2017 to create a NBA Destination on the tropical island of Hainan.
The 2,275-square-meter NBA Exhibit and Store uses interactive exhibits, video and imagery to showcase the passion of the league, its teams and players, journeying back to the league's early years and exploring the many ways the NBA has grown since 1946. The multi-level experience is open seven days a week at Mission Hills Centreville, a 240,000-square-meter fashion shopping and entertainment complex located within the 22-square-kilometre luxury Mission Hills Haikou resort.
The NBA Basketball School at Mission Hills Haikou will be open to male and female players, from junior level to professionals and will be completed in early 2020. The 10,000-square-meter school will include five indoor courts and other state-of-the-art facilities. NBA China will operate and staff the facility with NBA-trained coaches and provide the basketball development curriculum. NBA players and legends will visit the school to provide additional instruction and help foster player development.
Tenniel Chu, Group Vice Chairman of the Mission Hills Group said: "Basketball is considered one of the most popular amateur sports in China with a mass following. We hope to contribute to the country's sports development by cooperating with the world's top sports brands, like the NBA, to drive sporting excellence."
"Basketball development is a primary focus of NBA China, and the partnership with Mission Hills will help us continue our efforts to grow basketball in the country," said NBA China CEO Derek Chang.
Photo Captions
Photo 1 – Ground breaking ceremony for the NBA Basketball School at Mission Hills Haikou in Hainan, China (left to right): George Land, Senior Vice President, NBA China; Wayne Chang, CFO, NBA China; Derek Chang, CEO, NBA China; Ding Hui, Deputy Secretary and Mayor of Haikou Municipal Committee; Ken Chu, Group Chairman and CEO, Mission Hills Group; Cao Yuanxin, Department Chief of Hainan Tourism and Culture, Radio, TV and Sports Bureau; Stephon Marbury; Tenniel Chu, Group Vice Chairman, Mission Hills Group
Photo 2 – Official opening of the NBA Exhibit at Mission Hills Haikou in Hainan, China (left to right): Cao Yuanxin, Department Chief of Hainan Tourism and Culture, Radio, TV and Sports Bureau; Derek Chang, CEO, NBA China; Ding Hui, Deputy Secretary and Mayor of Haikou Municipal Committee; Ken Chu, Group Chairman and CEO, Mission Hills Group; Stephon Marbury; Tenniel Chu, Group Vice Chairman, Mission Hills Group
Photo 3 and 4 – NBA and CBA basketball legend Stephon Marbury hosts a clinic for children at the opening of the NBA Exhibit at Mission Hills Haikou in Hainan, China
Photo 5 – Stephon Marbury and Tenniel Chu, Group Vice Chairman, Mission Hills Group answer questions from the media at the official opening of the NBA Exhibit at Mission Hills Haikou in Hainan, China
Photo 6 – Official opening of the NBA Exhibit at Mission Hills Haikou in Hainan, China (back left to right): Wayne Chang, CFO, NBA China; George Land, Senior Vice President, NBA China; Derek Chang, CEO, NBA China; Stephon Marbury; Ken Chu, Group Chairman and CEO, Mission Hills Group; Tenniel Chu, Group Vice Chairman, Mission Hills Group
Photo 7 – Official opening of the NBA Exhibit at Mission Hills Haikou in Hainan, China (back left to right): Derek Chang, CEO, NBA China; Ken Chu, Group Chairman and CEO, Mission Hills Group; Stephon Marbury; Tenniel Chu, Group Vice Chairman, Mission Hills Group
Photo 8 – Official opening of the NBA Exhibit at Mission Hills Haikou in Hainan, China (back left to right): Wayne Chang, CFO, NBA China; George Land, Senior Vice President, NBA China; Derek Chang, CEO, NBA China; Ken Chu, Group Chairman and CEO, Mission Hills Group; Tenniel Chu, Group Vice Chairman, Mission Hills Group; and (front right) Stephon Marbury