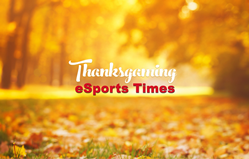 "Our high-quality but down-to-earth, home-brew entertainment will connect with ordinary gamers and non-gamers..." Wendy Wang, CEO of ESR.
NEW YORK (PRWEB) November 16, 2020
Esports audiences can add NBCLX, a new TV and OTT network designed for Millennials and Gen Z-ers, to their must-watch lists. Beginning Monday, November 16, NBCLX will be featuring esports titles from the ESR 24/7 eSports Channel that include holiday-themed video game mini-challenges, competitions and interviews with esports insiders. Audiences can watch NBCLX's programming for free on LX.com (no login required), on Roku, on Apple TV, on YouTube TV, on Fubo TV, through NBC-owned station apps, on linear TV in 43 U.S. markets, and on cable and digital platforms. See below for NBCLX's channel listings.
"We are thrilled for NBCLX to present esports competitive entertainment to our audiences for the very first time. Esports is a global phenomenon. We cannot wait to welcome the esports community and fans to our network," said Matt Goldberg, VP of Content Strategy, NBCLX. "NBCLX is smart to engage the exploding eSports audience. Our high-quality but down-to-earth, home-brew entertainment will connect with ordinary gamers and non-gamers, as opposed to flashy shows focused only on elite players," said Wendy Wang, CEO of ESR.
NBCLX's ESR-produced esports programming schedule:
"Thanksgaming" (Begins November 16) – Sibling rivals, punchy cousins and former best friends duke it out in a series of video game competitions married with trivia questions-all for the chance to be named 'Grandma's Favorite' in the final round.
"Age of Coronavirus" (Begins November 22) – Host Chase Kuertz interviews esports insiders worldwide from New York City as they grapple with and share their unique perspectives in this new age of digital communication and social distancing.
"Holiday Smash" (Begins December 11) – Friends and family come together to challenge each other to a series of video games and holiday-themed mini challenges to see if they have what it takes to be Santa's Little Helper.
"Toast with the Most" (Begins December 28) – The best of the best from previous eSports Times holiday game shows face off against each other to see who is the toast with the most.
"Playing with Words" (2021) – A host invites a guest over for a friendly game as they exchange conversation on several topics all-the-while competing and playing in teams.
"Kills, Thrills & Chills" (2021) – Two hosts wrangle several players together to find out who can finish the scariest games without a scream and seize the prestigious title 'Final Girl.'
NBCLX programming also includes "LX News," a live news program that features a new storytelling approach to news that is personal, inspiring, thought-provoking and community focused. In addition, audiences can tune in to NBCLX to watch programming from Jukin Media, Tastemade, The Dodo and Storytelling Spotlights from The New York Times video journalists.
About NBCLX
NBCLX or 'Local X' is NBCUniversal Owned Television Stations' new TV and streaming network that serves adults 18-45. NBCLX's innovative storytelling approach to news is personal, inspiring and empowers audiences to take part in the conversation. The network delivers more than 20 hours of local news and original programming each week through "LX News," and features fan-favorite shows 1st Look, George To The Rescue and Open House, as well as programming from various content partners. Audiences everywhere can watch NBCLX's stories, programs and the live channel feed on LX.com (no login required), on linear TV in 43 U.S.-based TV markets, on Xfinity, Cox Cable, Optimum, Spectrum, and Verizon systems in select markets, on the Roku platform for U.S. audiences, through Apple TV, YouTube TV and Fubo TV through NBC owned station apps, and on mobile web through the NBC owned station apps (click on the 'NBCLX' tab). For more information about NBCLX and to check local listings, visit LX.com. Follow on social @NBCLX #NBCLX.
About the ESR 24/7 eSports Network
Carried by affiliates worldwide, ESR is the first 24/7 eSports Network in the United States, promoting eSports content across the entire range of games through its 24/7 channel and other programming. It is building a studio of next-generation talent around gaming entertainment to appeal to gamers, fans, and future fans worldwide. ESR covers all top eSports games including Apex Legends, Call of Duty: Warzone, Counter-Strike: Global Offensive (CS:GO), Dota2, FIFA, For Honor, Fortnite, Hearthstone, Hero of the Storm, League of Legends, NBA 2K, Overwatch, PlayerUnknown's Battlegrounds (PUBG), Rainbow Six, Rocket League, Smite, StarCraft, Super Smash, World of Tanks, and World of Warcraft (WOW). For more information, visit ESRevolution.com, watch ESR on Samsung TV Plus, Ch. 1358, XUMO, and STIRR Follow @ESR_TV on Twitter, @esrtv on Instagram, and on Facebook.com/ESRTV.