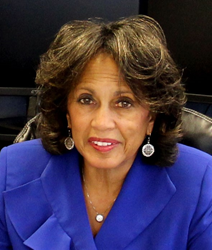 As we celebrate the Year of the Nurse, it is only fitting that we honor Dr. Malone with NCHL's most prestigious award, recognizing her dedication to leadership, organizational excellence and mentorship, and her strong advocacy to advance the cause of nursing
CHICAGO (PRWEB) August 10, 2020
The National Center for Healthcare Leadership, a nonprofit organization that supports the advancement of evidence-based leadership practices, is pleased to announce that Dr. Beverly Malone, Chief Executive Officer of the National League for Nursing (NLN), has been named the 2020 Gail L. Warden Leadership Excellence Award recipient.
As head of the NLN, the premier organization for faculty and leaders in nursing education, Dr. Malone is recognized for forging partnerships with key educational institutions, corporations and foundations that keep the NLN on the cutting edge of the technological innovations that are needed by nurse educators to help them succeed in today's rapidly changing environment. Under her leadership, the NLN, with 40,000 individual members and 1,200 institutional members, has moved to a mission-aligned business model that supports and develops nurses heading into leadership roles as well as building a diverse workforce dedicated to advancing the nation's health.
Dr. Malone is a visible national and global thought leader on issues facing the nursing profession, including diversity, the nurse educator shortage, and workforce development. Her career has mixed policy, education, administration, and clinical practice, underscoring her commitment and contributions to improving the health of the public, and distinguishing her leadership excellence.
"Dr. Malone exemplifies transformational leadership as evidenced by her life-long career advancing innovation in nursing education and addressing national and global health issues, including workplace diversity," NCHL CEO LeAnn Swanson said. "As we celebrate the Year of the Nurse, it is only fitting that we honor Dr. Malone with NCHL's most prestigious award, recognizing her dedication to leadership, organizational excellence and mentorship, and her strong advocacy to advance the cause of nursing."
Dr. Malone joined the National League for Nursing in 2007 after serving as General Secretary of the Royal College of Nursing of the United Kingdom in London, England, from 2001-2007. Prior to that, she was deputy assistant secretary for Health in the Department of Health and Human Services from 1999-2001, and served two terms as president of the American Nurses Association from 1996-2000. Earlier in her career, Dr. Malone held leadership roles at the North Carolina A&T State University, and was the director of nursing professional staff resources at the University of Cincinnati, University Hospital.
Dr. Malone received her BSN from the College of Nursing and Health at the University of Cincinnati and earned her M.S. in Adult Psychiatric Nursing from Rutgers. She received her Ph.D. in Clinical Psychology from the University of Cincinnati and attended the Harvard Institute of Educational Management.
Dr. Malone has received numerous professional and educational honors during her career, including honorary doctorates from Georgetown University, University of Cincinnati, and University of District of Columbia. Recent fellowships include Fellow Ad Eundem of the Faculty of Nursing & Midwifery, Royal College of Surgeons, Ireland, and Fellow of the National Academy of Medicine. In 2020 she received the Linda Bates Parker Legend Award from the University of Cincinnati, she was honored as a Modern Healthcare Inaugural Minority Leaders Luminary, and she received the Lifetime Achievement Award, the Alpha Omega Chapter of Signa Theta Tau and The College of Nursing of Adelphi University. She has been ranked several times as one of the 100 Most Influential People in Healthcare by Modern Healthcare, which has also honored her as one of the Top 25 Women in Healthcare.
The Gail L. Warden Leadership Excellence Award committee was co-chaired by Peter W. Butler, Retired President Rush University Medical Center, and Jill Schwieters, NCHL Board Chair, JAS & Associates. The committee's members are: Nancy Howell Agee, Carilion Clinic; Bob Clarke, Furst Group; Damond Boatright, SSM Health – Wisconsin Regional; Dr. Joanne Conroy, Dartmouth-Hitchcock Health; Edgar Curtis, Memorial Health System; David Ertel, Vizient, Inc.; Jessica Melton, Sentara Norfolk General Hospital; Dr. David Feinberg, Google Health; Dr. Rod Hochman, Providence and 2019 Gail L. Warden Leadership Excellence Award recipient; Michelle Hood, American Hospital Association; Shoou-Yih (Daniel) Lee, PhD, Department of Health Management and Policy, University of Michigan School of Public Health; Joe Moscola, Northwell Health; and Brian Peters, Michigan Health and Hospital Association.
Dr. Malone will be honored at NCHL's 2020 Gail L. Warden Leadership Award Celebration, which will occur virtually on Thursday, November 19, as part of the NCHL Human Capital Investment Conference being held November 16-20. Over the years, the conference and celebration have been one of healthcare's most important events, attracting luminaries and notable leaders from prominent health sector, academic, and research organizations.
ABOUT THE GAIL L. WARDEN LEADERSHIP EXCELLENCE AWARD
Established in 2005, NCHL's annual Gail L. Warden Leadership Excellence Award recognizes individuals who have made significant contributions to the health field, including the mentoring of future leaders towards transforming organizational performance to improve health and healthcare. It is named for Gail L. Warden, founding chairman of the NCHL Board, president emeritus of Henry Ford Health System, and a major proponent of leadership development throughout his career.
ABOUT THE NATIONAL CENTER FOR HEALTHCARE LEADERSHIP
Established in 2001, the not-for-profit National Center for Healthcare Leadership champions three premier membership programs that advance healthcare leadership. These are the Leadership Excellence Networks (LENS), US Cooperative of International Patient Programs (USCIPP), and National Council on Administrative Fellowships (NCAF). Each of these programs supports a portfolio of interorganizational collaborations that address critical issues facing today's leaders as they pursue excellence and solutions. For more information please visit NCHL's website. You can also visit NCHL's LinkedIn page or follow NCHL on Twitter.