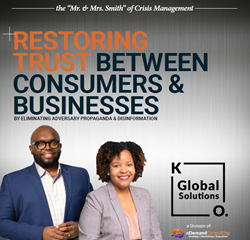 The major global changes between 2019 to 2020 has taught the world that their crisis management plans did not factor in a world pandemic. So what do we do now?
ATLANTA (PRWEB) June 09, 2021
nDemand Consulting Services Inc., a management consulting firm focused on eliminating adversary propaganda & disinformation via large-scale crisis management & prevention training, accepted a 5-year federal contract award to continue the agency's mission requirement aligned with their charter to effectuate the International Broadcasting Act of 1994.
nDemand was vetted and selected by a federal review committee based on the depth and diversity of experience. Criteria for acceptance include a track record of successfully impacting federal agency metrics, as well as specific past performance.
"We are thrilled to continue our work with this agency," said Oscar Frazier, Co-Owner and Chief Technologist of nDemand. "Our team works directly with agencies and firms with a global emphasis specific to countering violent extremism (CVE), counter-terrorism, and superimposing best practices around media communications, journalism, and remediating potential chaotic scenarios. We have conducted large-scale crisis management and prevention training across the continent of Africa, including Luanda (Angola), Huambo (Angola), Djibouti City (Djibouti), Nairobi (Kenya), Mogadishu (Somalia), Addis Ababa (Ethiopia), and Goma North Kivu (The Democratic Republic of the Congo)."
Finally, nDemand will work closely with this agency to share training resources and best practices that will help them meet their goals of training media and organizing affiliate conferences to help support freedom of expression and independent media worldwide. These events build media capacity among local organizations and support affiliate networks who deliver to a majority of their audience.
ABOUT nDEMAND CONSULTING SERVICES INC.
The nDemand team are providers of safe & comprehensive global crisis management training and logistics management. We minimize chaos by implementing research backed methods to prevent and de-escalate crises across global communication channels in both non-hostile and hostile locations. We train effectively by helping organizations establish and maintain trust by sharing industry best practices and useful resources applicable across various crises. We scale globally because crises can arise anywhere, for a myriad of reasons. We provide scaled and customized training built to address and mitigate different types of crises.
To learn more about nDemand Consulting Services, visit https://globalsolutions.ndemandconsulting.com/
To learn more about Oscar, visit https://profiles.forbes.com/members/business/profile/Oscar-Frazier-Chief-Technologist-Co-Owner-nDemand-Consulting-Services/d7e8e0a5-2e8d-4ac3-b9de-90813f67d759
For press and media inquiries, please contact info@ndemandconsulting.com
Connect with nDemand on LinkedIn here: https://www.linkedin.com/in/oscar-frazier-mba-pmp-lssbb-cert-safe%C2%AE-5-agilist-7554861b/