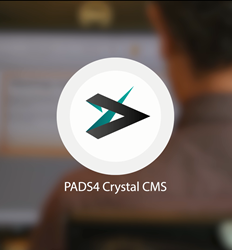 With PADS4 Crystal CMS, we make it easier than ever to update and manage display content from anywhere
EINDHOVEN, Netherlands (PRWEB) November 02, 2018
NDS, developer of PADS4, the data-driven digital signage software has announced the launch of their brand new application PADS4 Crystal CMS.
With the release of PADS4 Crystal CMS, PADS4 customers can create, edit, and manage their digital content through a web-based interface. Next to the PADS4 key features to drive data-driven and fully automated digital signage solutions, the CMS application is a welcome addition to the PADS4 platform. In an era where on-the-go content management is key, NDS now offers their PADS4 customers the freedom and flexibility to make instant content changes and media scheduling without the limitations of having to use a desktop computer.
The software comes with a secure web login for central content management for an entire digital signage network. Plus, with complete profile and access management, and scalable user licensing to support any-size teams, PADS4 Crystal CMS makes it easy to stay in control. With PADS4 organizations can manage who, how, and where network administrators can change data without sacrificing local display access.
"We are delighted to announce the release of PADS4 Crystal CMS," says Peter den Burger, Marketing Communications Manager of NDS. "With PADS4 Crystal CMS we give our end-users the power to stay in control of content across all their digital channels. With a web-based interface, accessible via a secure web portal from any browser, the CMS makes it easier than ever to update and manage display content from anywhere."
PADS4 Crystal CMS is now available through the global PADS4 reseller network of NDS. Find out how the PADS4 digital signage platform can help you manage your digital channels and go to http://www.pads4.com to request a free 30 day trial.
About NDS
At NDS we developed our first digital signage solution in 1994, at the cusp of the digital revolution. Our focus on data-driven solutions enabled us to stand out, even as one of the first digital signage software providers. We have stayed true to that from day one, and we can truly say that data integration is in our DNA.
Today, we have continued to ride the wave of modern technology to provide next-level solutions in our high-end digital signage software. PADS4 is one of the leading digital signage software platforms, with flexible and scalable solutions for every industry, varying from transportation, corporate and government to hospitality, retail and healthcare.