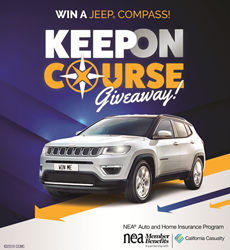 We appreciate everything you do.
SAN MATEO, Calif. (PRWEB) May 05, 2020
Driving for many—once an everyday part of life—is now a rare occurrence because of Coronavirus or COVID-19. And when you do get out on the road, it can be really stressful: Rushing to the grocery store before the lines start, mentally rewriting your essentials shopping list, or putting on your mask and gloves while driving. These are understandable behaviors given the times, but they also qualify as distracted driving.
NEA Member Benefits and the NEA Auto & Home Insurance Program provider, California Casualty, want you to stay focused on the road when behind the wheel. However, we would also like to give you a bright spot of news against the negative COVID-19 stories that surround us these days.
California Casualty is rewarding NEA members who make a promise to drive safely with the chance to win a new Jeep® Compass—a popular crossover SUV valued at $25,000. All it takes is a visit to http://www.WinAJeepCompass.com/NEA before October 4, 2020.
The "Keep on Course" Giveaway is our way of helping create a movement to make our roads safer for everyone and take a stand against distracted driving.
"Your safety is important to us," said California Casualty Sr. Vice President Mike McCormick. "We appreciate everything you do and we know that your commitment extends beyond school to your home and family."
Here's your chance to dream about something fun and exciting. NEA members can join the drive to "Keep on Course" and be entered to win at http://www.WinAJeepCompass.com/NEA. Not only will you be helping make our roads safer, but you'll be in the running for a brand new SUV—it's a double win. The campaign will run through October 4, 2020. The winner will be announced in October or November.
Educators can also take the safe driving effort into their classrooms, with the free evidence-based materials from Impact Teen Drivers at http://www.impactteendrivers.org.
California Casualty has been serving the needs of educators since 1951 and is the only auto and home insurance company to earn the trust and endorsement of the NEA. As a result, NEA members qualify for exceptional rates, deductibles waived for vandalism or collisions to your vehicle parked at school, holiday or summer skip payment plans and free Identity Defense protection – exclusive benefits not available to the general public. Learn how to save by getting a quote at http://www.neamb.com/autohome, or by calling 1.800.800.9410.
*Jeep is not a participating partner in or sponsor of this contest.