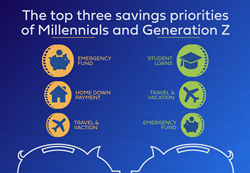 It's encouraging to see that Gen Z is actively saving to get ahead of paying down the student loan debt that they are absorbing. However, it's equally concerning to see that millennials, who are heavily saddled with student loans, appear to have delayed their plans to repay their debt. - Sean Hseih
SEATTLE (PRWEB) August 15, 2019
With millions of Gen Z students — those born from the mid-1990s to the mid-2000s — heading back to school at universities across the country, a new report from commercial real estate investing platform, Concreit, has found that many of these students are already actively saving to pay down the massive amounts of debt they're accumulating.
When asked, "What currently takes priority in terms of your savings?," 38% of the study's Gen Z respondents said that paying for their student loans was their number one priority. With student debt rising to $1.6 trillion by the end of Q1 this year, it appears that a large percentage of those heading back to school are aware of the burden they are taking on and are working to get in front of it before entering the workforce and beginning repayment.
Interestingly, despite roughly 40% of Gen Z's slightly older peers — millennials — having student loan debt according to prior research, saving to pay student loans did not come in the top three current savings priorities for this cohort. Rather, building an emergency fund was the number one response for millennials, ahead of a down payment for a home (19%) and travel (16%).
"It's encouraging to see that Gen Z is actively saving to get ahead of paying down the student loan debt that they are absorbing," said Sean Hsieh, Co-Founder and CEO of Concreit. "However, it's equally concerning to see that millennials, who are heavily saddled with student loans, appear to have delayed their plans to repay their debt. Whether this is as a result of an anticipation of student loan forgiveness policies or simply an acquiescence to the insurmountable debt they've accumulated, our study shows that student loans continue to have a significant impact on younger generations, both in the near and long term."
The study, which was commissioned to a near even split of 1,000 Gen Z and Millennial Americans also looks beyond student loans into topics such as the use of fintech technology and behaviors pertaining to investing and retirement when it comes to these generations.
Additional highlights of the study include:
Millennials Worried About Making Ends Meet, While Gen Z More Concerned with Lifestyle

Top Savings Priorities
Millennials' #1: Building an emergency fund (23%)
Gen Z's #1: Education/student loans (38%)
Top Financial Concerns:
Millennials' #1: Not being able to pay my bills (26%)
Gen Z's #1: Not being able to live the lifestyle I'd like to (38%)
Nearly One-in-Five Millennials Still Live at Home with Their Parents, Yet 86% Want to Own Their Own Home

18% of millennials report that they are currently living at home with their parents
33% of millennials report owning a home, yet 86% report wanting to own a home
Gen Z was slightly less likely to report wanting to own a home (78%)
Gen Z also more likely (22%) to say that they are perfectly content with renting for the foreseeable future vs 15% of millennials who reported the same
More than One-in-Three of Those 38 and Under Expect to Retire by 60

36% of Gen Z and millennial respondents expect to retire before the age of 60.
Yet 42% of Millennials report that they have not started saving for retirement with a dedicated savings or investment account, and 67% report having $10,000 or less in any long term savings or investment account.
32% of Gen Z report they already have a dedicated savings or investment account for retirement.
Number of Young Americans Investing in Stocks Slips As Confusion Abounds

Our study illustrates a continuing slide of those under 35-years-old with money in the stock market: 52% (2006-07), 37% ( 2017-18 ), 35% (2019).
Both generations were three times more likely to say that they are "not comfortable at all" vs. "very comfortable" with investing.
46% of Millennials say they are not investing whatsoever.
The full results of the study can be found here.
About Concreit
Concreit is a hybrid investing platform that combines the growth potential of commercial real estate investing with the liquidity of a savings account to simplify the real estate investing process and make it accessible to everyday investors. Through a combination of mobility, blockchain technology, a robust vetting process, and an actively managed portfolio, users have the ability to invest smarter than the 1% for as little as $1. To learn more, visit http://www.concreit.com.