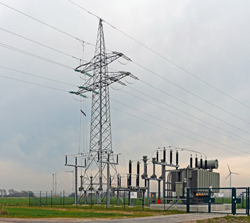 It is exciting to witness Nebbiolo's vision of virtualized, centrally orchestrated computing at the edge, consolidating mixed criticality applications and complemented by advanced analytics, manifest its great potential in the evolution of Secondary Substations and Smart Grid in general
MILPITAS, Calif. (PRWEB) January 14, 2020
Nebbiolo Technologies Inc., an Industrial Internet of Things (IIoT) edge platform provider, today announced that they are joining forces with Iberdrola, one of the world's largest electricity utilities, Intel and five industry major players, Ariadna Grid, Circutor, Landis+Gyr, Merytronic, and ZIV Automation, to create a new intelligent, open standard for secondary substations that promises to be a game-changer for the rapidly evolving global energy sector.
Today's energy production and consumption ecosystem is being transformed by a combination of micro-producers, e.g., rooftop solar panels, local energy storage devices, and electric vehicles. Electricity demand is increasing, and today's power grid is becoming bi-directional and more susceptible than ever before to fluctuations in consumption. Utilities are grappling with the challenge of load balancing in an environment that includes bi-directional power flows at the edge of the grid.
The newly formed group is embracing the need for better efficiency by developing a Secondary Substation Platform (SSP) reference architecture based on Edge Computing, that uses Intel CPUs to facilitate the deployment of a standards-based, open, interoperable, and more secure architecture.
While low-cost delivery of electricity is the goal, utilities face a combination of operating challenges at secondary substations – from maintaining electromechanical equipment to managing legacy computer systems. But now, intelligent edge consolidation is facilitating the implementation of Smart Grid technology that uses virtualization for monitoring, control, and edge analytics. The reference architecture thus envisioned is also designed to increase visibility at the edge, and to help mitigate the challenges created by both the proliferation of distributed energy resources and the increase in overall demand for electricity.
The new Secondary Substation Platform reference architecture is designed to facilitate deployment of an integrated substation platform that addresses both the technical and business challenges faced by utilities worldwide. The benefits of smart SSPs include lower capital and operating costs, faster time to market for new technology and, ultimately, more efficient management and delivery of electricity.
"It is exciting to witness Nebbiolo's vision of virtualized, centrally orchestrated computing at the edge, consolidating mixed criticality applications and complemented by advanced analytics, manifest its great potential in the evolution of Secondary Substations and Smart Grid in general", said Chandra Joshi, CEO and Co-Founder of Nebbiolo Technologies.
About Nebbiolo Technologies.
Nebbiolo Technologies is a California based startup, founded in 2015, with the mission to develop and apply the new Edge (a.k.a. Fog) Computing paradigm in the domain of Industrial IoT, with early focus on Industrial Automation, Energy and Oil and Gas. The Nebbiolo Platform delivers a complete infrastructure, including:

Highly modular, secure, and scalable computing nodes (fogNodesTM), available through third parties.
A rich software stack (fogOSTM), delivering networking, security, resource virtualization, application and asset management, data management, and analytics functionality on each fogNode;
A centralized system management software, hosted in the cloud or on-premises (fogSMTM). This cloud-inspired system management supports a distributed non-homogeneous federation of fogNodes and end devices, enables the convergence of Information (IT) and Operations Technologies (OT) technologies in the fog layer, simplifies and secures the deployment and operations of complex resources at the edge.
The Nebbiolo Technologies Platform is ideal to run edge applications with rich and streaming analytics capabilities. It is a scalable and highly available component of an End-to-End Industrial IoT solution, engineered to provide comprehensive end-to-end security, Software Defined Network (SDN) enabled real and virtual networking, and real-time capabilities to manage tight control loops.
For more information please visit:
https://www.nebbiolo.tech/