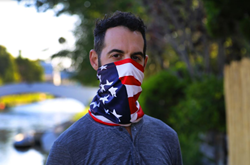 LOS ANGELES (PRWEB) November 10, 2020
Do neck gaiters work as well as face masks for COVID-19 protection? New research from the University of Georgia and Virginia Tech fly in the face of Duke's now-infamous study that condemned these versatile tubes of fabric. The more recent studies suggest that neck gaiters work well at stopping the spread of the coronavirus — and that they may actually be more effective than cloth face masks.
When Gaiter King first opened for business, it was on a mission to provide durable apparel that met the unique needs of outdoor enthusiasts and professionals in the construction, logistics, and trucking industries. But when the COVID-19 pandemic began, the company soon found that its face masks and neck gaiters were serving a different purpose: Helping people stay safe in these turbulent times.
Not long after, Duke University published a study that led media outlets to believe that neck gaiters allowed more airborne particles to spew through its fabric. The problem? This study was not meant to evaluate face mask protection options; it was actually intended to demonstrate an inexpensive method to test face mask protection efficacy, and it purposely used a thin, lightweight neck gaiter for "extra breathability."
Since Duke University published its findings, several reputable news sources such as The New York Times, The Washington Post, and USA Today and many leading researchers have all come to the defense of neck gaiters. One of them was even a leading researcher in Duke University's study.
"We tested one neck gaiter because we just had that mask lying around. As I mentioned, it was a pretty thin mask," explains Dr. Martin Fischer, a Duke University Chemistry associate research professor and co-author of the study. "Our intent was not to say this mask doesn't work, or never use neck gaiters. This was not the main part of the paper... It was not a systematic study of masks... Seeing the media somewhat misquote and misinterpret the data was a big downer."
Now, two other academic institutions have also come to the rescue of neck gaiters: The University of Georgia and Virginia Tech.
Employing the same methodology as the Duke University study, the University of Georgia researchers used a laser, a Class 1000 clean room, and a 3D-printed box designed to reduce air particles. In this environment, they then had an adult male participant say the phrase "Stay healthy, people" five times while wearing a variety of face masks and neck gaiters. Single-layer neck gaiters reduce respiratory droplet transmission by 77%, while two-layer face masks achieved an average score of 81%. Multi-layer neck gaiters reduced respiratory droplets by 96%.
Virginia Tech, a leading authority on aerosols, also conducted its own study on single-layer and two-layer neck gaiters. Researchers at this institution found that both types of gaiters were effective at stopping 100% of large 20-micron droplets and 50% of one-micron particles. When the researchers doubled the single-layer gaiter, it blocked more than 90% of all aerosols.
The results from the University of Georgia's and Virginia Tech's studies have alleviated the concerns of Gaiter King's founding members regarding misinformation about neck gaiters. But they know more work still needs to be done to vindicate neck gaiters completely. And they hope that their products' quality will help in these efforts.
Gaiter King uses high-quality material specifically designed to combat the shortcomings of a thin fabric gaiter. The company's neck gaiters and face masks are moisture-wicking and offer UPF 50 protection to keep users cool, dry, and guarded against the sun's rays. Each Gaiter King product is infused with a copper and silver anti-microbial treatment that has been clinically shown to defend against most viruses, bacteria, mold, and fungus. Lastly, each Gaiter King neck gaiter can easily become two-ply just by folding them down.
Established in Southern California, Gaiter King was founded by a group of outdoor enthusiasts who create functional, fashionable, and durable apparel for nature lovers and working professionals across the agricultural, construction, logistics, and energy industries. All of Gaiter King's face masks and neck gaiters are 100% American-made.