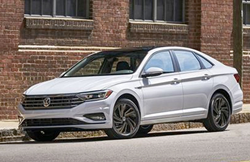 THOUSAND OAKS, Calif. (PRWEB) September 15, 2020
During the month of September, Neftin Volkswagen is holding the September Summer Savings Event at its location in the Thousand Oaks area. The event includes offers on select models in their inventory, including an assortment of Volkswagen sedans. Each offer on select 2020 sedan models have two 39-month lease term options. These offers include an option both with and without an initial down payment. Each monthly figure does not include tax.
Customers interested in special lease offers on various new 2020 Sedan models can find them at Neftin Volkswagen. Several 2020 VW Jetta S and 2020 VW Passat SE models are available at varying price point. With the 2020 VW Jetta S model, customers can pay $139 per month with an initial down payment of $1,995. Customers can also choose to lease the vehicle for $255 per month without paying any money down. Meanwhile, the 2020 VW Passat SE also has two lease options. The first includes a $204 per month cost with an initial payment of $1,995. A second option is to pay no money down but pay $255 per month during the lease length.
On top of the select offers on 2020 models, Neftin Volkswagen also has reduced prices on select 2019 Volkswagen Arteon SE and 2019 VW Atlas S models. With an original base price of $39,110, a 2019 VW Arteon can be had for $31,495 during the special. Likewise, those looking for a crossover can find a 2019 VW Atlas S priced at $27,495 despite its initial price of $32,260.
Those interested in purchasing or leasing a new vehicle listed above or have interest in other SUV models in the sale are encouraged to contact Neftin Volkswagen directly. The dealership is located at 3550 Auto Mall Drive in Thousand Oaks, CA. They can also be reached through phone at (855) 416-8556 or online at https://www.neftinvw.com/.