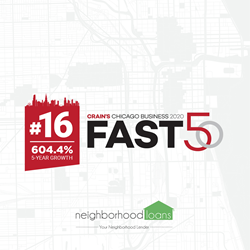 DOWNERS GROVE, Ill. (PRWEB) October 16, 2020
Neighborhood Loans is pleased to announce that we have been selected as #16 on Crain's Chicago Business Fast 50 List of 2020. Combined, all 50 business on the list grew revenue from $3.9 billion in 2014 to $12.6 billion in 2019, creating a total of 225.5 percent growth.
As a company, over the past five years, we have grown over 600%! Through seeking new opportunities and maintaining great relationships with clients, we have been able to rapidly expand both our operations and sales team!
Our team is nothing short of unstoppable and our growth wouldn't be possible without them. By listening to each member and providing them with all the tools they need to be successful - we will continue to tackle any challenges presented.
###
Founded in 2005 by Reno Manuele and Tony Ameti, our mission at Neighborhood Loans is to educate and enable our clients while keeping them a top priority. Over the past two decades, we have been able to establish an environment where this is the norm. With six strategically placed locations throughout Illinois, Michigan, and Arizona we are dedicated to providing you service that exceeds industry standards. Our rapidly growing team runs all operations in-house to help keep you, the client, informed and involved during the process of buying a home.
Our mission is to empower our clients by finding the best loan product that will fit their current financial situation and secure their future. To do this, we offer a streamlined mortgage process, consult consumers in a rapidly changing market and educate our clients on the advantages of being a homeowner.
If you have any questions or would like to learn more about Neighborhood Loans visit http://www.neighborhoodloans.com For career opportunities, please visit http://www.neighborhoodloans.com/careers