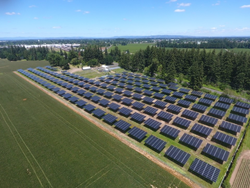 Community solar projects like this help contribute to a healthier environment for the entire community, and Mana Monitoring helps us ensure our solar farms reach peak performance and generate the expected returns we can pass on to subscribers.
PORTLAND, Ore. (PRWEB) April 06, 2021
Renewable energy provider Neighborhood Power has partnered with Mana Monitoring to deliver the cost-saving and environmental advantages of solar energy to Oregonians en masse from multiple community solar farms in the state. The project consists of four 2.5MW community solar farms, three of which are now fully operational, within the Portland General Electric service territories and are the first commissioned projects in Oregon's state-mandated Community Solar Program.
Daimler Trucks North America LLC, WorldMark by Wyndham - Portland Waterfront Park vacation club resort and Clackamas County have all committed to their renewable energy goals as initial subscribers. A small number of subscriptions are still available today for small commercial businesses (with energy loads less than 30kW, such as law offices, restaurants, gas stations, car washes and others) as well as low-income residential customers. Visit neighborhoodpower.com/community-solar to subscribe to the Oregon community solar farms.
"We believe everyone deserves the opportunity to benefit from renewable energy but also recognize not every home, building, or housing situation allows for the purchase and installation of solar PV," said Benjamin S. Collinwood, vice president of sales at Neighborhood Power. "Community solar projects like this help contribute to a healthier environment for the entire community, and Mana Monitoring helps us ensure our solar farms reach peak performance and generate the expected returns we can pass on to subscribers."
Operating under the Oregon Community Solar Program, this project enables commercial and qualified low-income residential customers to purchase energy from local renewable resources, delivering the advantages of renewable energy credits and reduced electricity bills. Subscribers save an average of 5 to 20 percent on annual electricity costs. Community solar is ideal for renters, homes and buildings with shade or those who cannot purchase or install solar PV on their property. Momentum for community solar projects is growing in states like Oregon, Hawaii, New Mexico and beyond.
Neighborhood Power is leveraging the Mana Monitoring Platform to track, report and manage each farm's production in one centralized dashboard to ensure optimal performance. Mana Monitoring specializes in aggregating solar PV and renewable energy site portfolios into a single platform, providing optimized monitoring, streamlined system maintenance and automated reporting.
"Real-time monitoring is essential for managers of community solar projects like Neighborhood Power to optimize system uptime, which ultimately translates into maximum savings for subscribers," said Zoltan Milaskey, president of Mana Monitoring. "Mana Monitoring's platform is used on more than 500 MW of energy nationally, and working with other renewable energy experts like Neighborhood Power allows us to bring our combined experience to Oregon in a powerful way."
To learn more about Mana Monitoring's cloud-based energy solutions for community solar, commercial and utility solar projects, visit manamonitoring.com.
About Neighborhood Power
Neighborhood Power Corporation is a renewable energy micro utility that produces 100% clean power where it is used. Neighborhood Power sells solar power by the kilowatt-hour to residential, commercial, municipal, non-profit and utility markets. Neighborhood Power is a fun, nimble company with heart that wants everyone to be able to have clean renewable energy. We provide all of the engineering, construction, financing, servicing as well as O&M; and we are also flexible in our capacity to structure co-development agreements which meet the needs of our partners and draw upon our respective expertise and access to specialized markets. We built a company on the premise that everyone should be able to have clean renewable energy generated where they use it. Saving them money while saving the environment for future generations.
About Mana Monitoring
Mana Monitoring helps energy professionals in the commercial, government, and non-profit sectors attain their renewable-energy objectives. The Mana Monitoring Platform is a single-source monitoring aggregator and asset management platform that is flexible, scalable, and compatible with a wide range of solar PV and distributed energy resources. For commercial property owners/managers and entities that manage a group of buildings/facilities, Mana Monitoring's Platform provides a real-time energy dashboard and reporting platform designed for both technical non-technical users. For O&M/installer companies, PPA owners/asset managers, and energy utilities, Mana Monitoring provides comprehensive monitoring and reporting services to ensure their renewable-energy assets are operating at peak performance. Headquartered in Maui, Mana Monitoring is privately held. For more information, visit manamonitoring.com.
Contact
Benjamin Collinwood for Neighborhood Power
bcollinwood@neighborhoodpower.com
Kaitlyn McAllister for Mana Monitoring
kaitlyn@cleantechcommunication.com