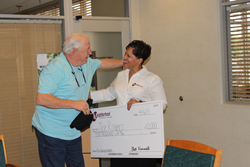 "If you pay yourself first, you never miss it."
LANCASTER, Texas (PRWEB) April 23, 2015
Working hard and saving your money can reap unexpected rewards, one Neighborhood Credit Union member found out this past Thursday as he ended the day $10,000 richer than he started.
The Ferris retiree was surprised during a visit to the Lancaster location, south of Dallas, as Neighborhood Credit Union Senior Vice President Carolyn Jordan presented him with an oversized $10,000 check (the actual cash was deposited into his account).
"Saving money has been a priority for many years," said Joe Rogers, a 69-year-old Ferris man who retired in 2010 after a 27-year career with the U.S. Postal Service. "Even now on a fixed income, I still try to stick with my monthly budget and forget that the savings account is there. If I ever get anything extra during the month, I just put it into savings. That money can build up faster than you might realize."
Rogers said that throughout his career, he maxed out on contributions to his retirement account, setting aside some 22 percent of each paycheck at the time he retired.
"If you pay yourself first, you never miss it," Rogers noted. "It's especially helpful if you set up an automatic transfer so those funds are never in your checking account to start with."
Now, Rogers is able to enjoy things he's passionate about: his grandchildren, traveling and achieving goals on his "bucket list." The $10,000 surprise will go toward each of those passions.
Jordan noted, "Joe is an example of a person who has worked hard and exercised consistent, disciplined savings habits, even after retirement. He is an inspiration and a reminder of the good habits our credit union encourages and especially highlights during Financial Literacy Month."
See the video here: https://youtu.be/F6mfpzm6I4g
Rogers' name was drawn from the ranks of members who participate in the Prize Savings Account, a special account the not-for-profit credit union created to encourage people to save money. Neighborhood Credit Union rewards good saving habits with prize drawings throughout the year, including a $10,000 prize each quarter and culminating with the $25,000 grand prize at the beginning of each new year.
How the Prize Savings Account works: Neighborhood Credit Union members receive one drawing entry for every $25 monthly average balance in their Prize Savings Accounts. The greater the savings, the greater the chance a member has of winning. Members are eligible for monthly $1,000 drawings and quarterly $10,000 drawings. At the start of each year, a winner is drawn for the $25,000 grand prize based on the average monthly balance in the savings account at close of business December 31.
About Neighborhood Credit Union: The oldest credit union in Dallas (chartered April 18, 1930), Neighborhood Credit Union is a not-for-profit financial organization serving Dallas and Ellis counties, as well as the city of Arlington. With branches in Oak Cliff, North Dallas, Richardson, Arlington, Mesquite, Duncanville, Waxahachie, Lancaster, Grand Prairie and Coppell and assets topping $360 million, Neighborhood Credit Union has a membership of 32,000 and continues to welcome new members daily. For more information, call (214) 748-9393 or visit http://www.myncu.com.