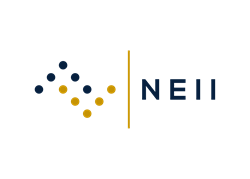 Code development, innovation and reliability work in tandem to create safe, efficient and resilient buildings.
CENTREVILLE, Va. (PRWEB) May 20, 2019
To celebrate Building Safety Month, the National Elevator Industry Inc. (NEII) published an infographic highlighting three key pillars of elevator and escalator safety. Mirroring the qualities of the strongest shape in nature, the triangle, NEII illustrates the impact and importance of code development, innovation and reliability for elevators and escalators. These three pillars work in tandem to create safe, efficient and resilient buildings and urban spaces.
Each May, the International Code Council (ICC) hosts the annual Building Safety Month campaign to reinforce the necessity of adopting modern building codes and to educate individuals, families and businesses on the process for creating safe and sustainable structures. Learn more about this year's campaign.
NEII is the premier national trade association for the elevator and escalator industry, providing advocacy, codes and safety expertise, and industry research.
About NEII
NEII is the premier trade association representing the global leaders in the building transportation industry. Its members install, maintain, and/or manufacture elevators, escalators, moving walks, and other building transportation products. NEII's membership includes the six major international companies - Fujitec America, Inc., KONE, Inc., Mitsubishi Electric US, Inc., Otis Elevator Company, Schindler Elevator Corporation, Thyssenkrupp Elevator Company and several other companies across the country. Collectively, the NEII members represent approximately eighty percent of the total hours worked within the elevator and escalator industry, employ more than 25,000 people in the U.S. and indirectly support hundreds of thousands of American jobs in affiliate industries.
For more information about NEII, please visit http://www.neii.org.